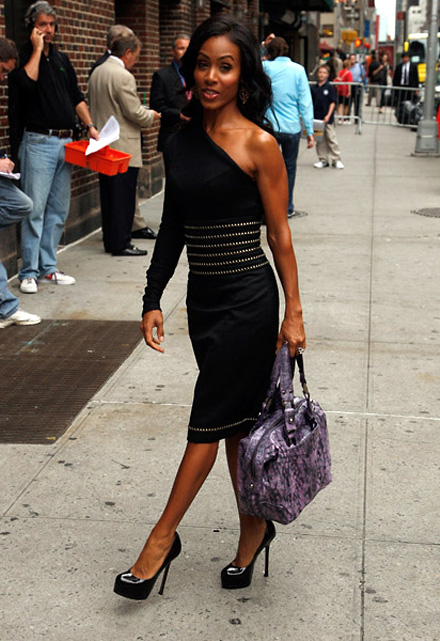 Last night Jada Pinkett-Smith was on The Late Show with David Letterman. Jada was there to promote her role in The Women, a movie featuring nothing but the female species. If that sounds a little Ellen to you, you'd be on target. Jada plays a lesbian writer named Alex Fisher.
Jada and Eva Mendes had a dancing and kissing scene that was cut from the final print. Look for it on the special edition DVD. You know how that works.
Jada Pinkett-Smith - Late Show with David Letterman
There was more talk about the family than anything else. Funny thing: right through the Hollywood glow, Jada talked about chaperoning Trey (Will's 16-year-old son from his previous marriage) on his first big date. That's like regular folks stuff. Not bad. Just where does this happen? How strange would it be for a kid to say, "That's my mom in the car. Yeah, Jada Pinkett." She's there waving.
All celebs put their pants or skirts on one leg at a time, but when you live in neighborbood dating range and it's not dubbed the Twilight Zone I guess your zip code is 90210. ← Hah, is that a real zip?