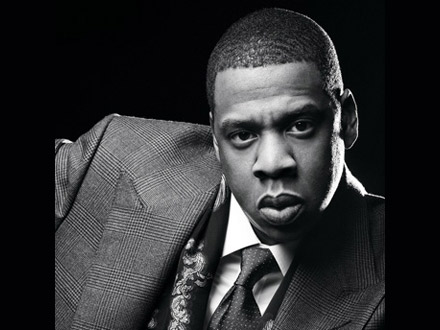 Jay-Z is on the cover of this month's Rolling Stone magazine. It's the second time the Rock and Roll folks have given him that shine.
If you want details of his 'addiction' you're gonna have to grab the paper and staples copy. However, three audio clips from the interview were posted on Rolling Stone. In one of them Jay-Z was asked, having met Barack Obama, what are his thoughts on next year's election?
That's where the psychiatrist stuff comes in..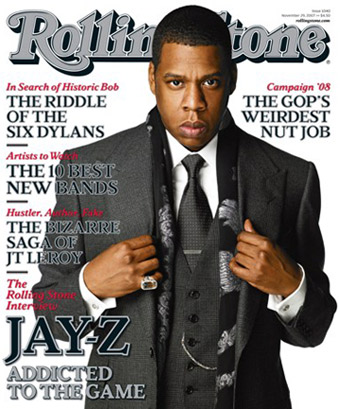 "It's difficult for me because growing up, politics never affected where we lived, so it's very difficult to get into this whole thing. As I get older I'm getting closer to them, I talked to Bill Clinton, I sat down with Barack Obama, and it makes me want to get into it; but certain parts of me still hold on to that feeling of nothing is going to change, as if I'm still a kid in Marcy projects.
You know, it's weird. It's actually not weird.. It's a lot of things you do now is because of your childhood. The first thing that happens when you sit on the psychiatrist's couch is they ask you about your Mama. (Haha)"
Rolling Stone: So what does that have to do with it?
"I'm saying my feeling is that I'm still the kid in Marcy projects, although I'm clearly not that person anymore, I still have those feelings. And I speak to Barack Obama and I'm like, 'What's gonna happen? What's gonna change?'
I still have those feelings of nothing is gonna change no matter who is in office."

All that said, ya'll mufuckas better get out and vote next year!
There was nothing sadder in the last presidential election cycle than hearing everyone complain about the war this, bullshit that, and at least in my voting district in Brooklyn, come election day there was a clear path to the voting booth. Meanwhile in fucking Ohio there are lines wrapped around the building.
Of course they had their voting machine debacle, but in BK I saw people hanging out and scu-doodling to the grocery store. Ask them if they voted and it's that same line.. "What for?" Yet, they'll also be the first to say that politicians do nothing for the community.
Politicians only care about votes, it's how they get and keep their jobs. If they know your district doesn't have active voters, there are no votes to be had there. If there are no votes - or low votes - why should they waste their time doing anything for that part of town?
If I'm in office who would I make sure to take care of first, those that give a shit about the process and seemingly the community, or those that don't want to miss their TV show?
No doubt there is a ton of horse shit involved in politics; money talks louder than anything else. Not one of us can dangle million dollar contracts to have our interests met, but a single vote is a bargaining chip at the table. If everyone in your town plays the game, those single chips start piling up and looking valuable, that's when all of a sudden things start happening on the political side of the table.
It's all about the chips.