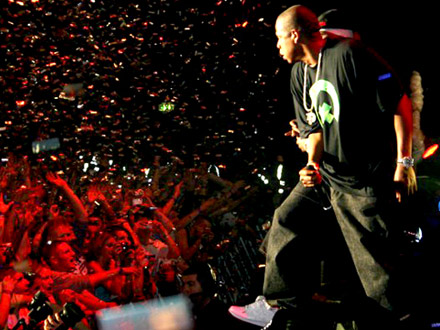 With sales of CDs sacked by the freebie nature of the internet, Jay-Z says artists need to find other ways of making money from their work. That's one reason why he left Def Jam - to have the freedom to explore those new ways of being. With that in mind, Jay-Z and concert promoters Live Nation, are putting the finishing touches on a $150 million deal. Included in the agreement is money for a new label, publishing company, talent management, $5 million a year for expenses, and $25 million on hand for complimentary investments.
The best part for Jay-Z is he doesn't have to sell a lot of records for the venture to be successful. Jay and any of his future artists, will focus on live performances - taking it back to the roots of the game.
"In a way I want to operate like an indie band," he said. "Play the music on tour instead of relying on radio. Hopefully we'll get some hits out of there and radio will pick it up, but we won't make it with that in mind."
The Heart of the City tour is a Live Nation deal. Sold out across the country.
The best news for music fans.. Jay-Z has to record one more Def Jam album before he can record for this new situation. Expect a quick off-the-top album this summer.
You know, he'd like to own that again too.