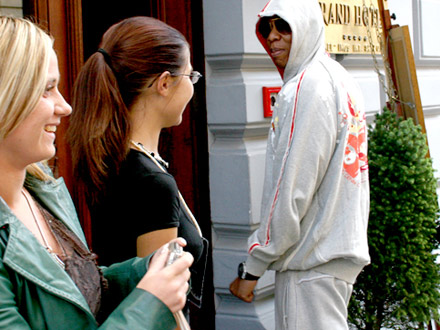 It's a hot and sunny summer Friday in NYC, who not make it hotter? Jay-Z made his regular six month or so stop to Hot 97's Angie Martinez Show to talk about all the things going on his life since they last talked. I tuned in at 4, Hov slipped in a little earlier but I don't think much more than what I heard was missed.
By the way.. don't smash him.. that hoodie pic is from the Water for Life tour. He was wearing a white t, Yankee fitted and a white watch. Hmm.. could have used a picture from 96'
He's not leaving Def Jam.. at least not yet. He spoke about Rihanna reacting funny towards him after the blogs claimed they had something going on. Talked about wanting to get into the hotel casino game. In the meantime he's building two regular hotels in NY, a possible name for one of them is.. The Marcy.
He talked 50 and Kanye.. it's an exciting thing for hip-hop, retail, blogs… everybody.
He mentioned the I Will Not Lose campaign, how it will expand into helping entrepreneurs on a worldwide and consistent basis.
Angie also asked him about Calvin Klien. If you don't know, Calvin Klien is the nickname of one his former drug dealing buddies, who was recently released and had a lot to say about Jay-Z not helping him out when he hit the street, and also said that Jay-Z is talking about the life he was living. This despite Jay-Z testifying in court on his behalf.. way back when.. and Klien having nothing but good things to say about him in a Don Diva interview when he was locked up.
Anyway, Jay didn't answer the question directly. He pushed it aside, implying that he's not responsible for anyone else's life. Like he's supposed to hand this guy the keys to the 'good life' once he was released.
I don't know the personal deal between them, but you can see how associating with the past worked out for Irv Gotti.
Pardon the quality at the beginning, this was an old school push it against the speaker type of thing.