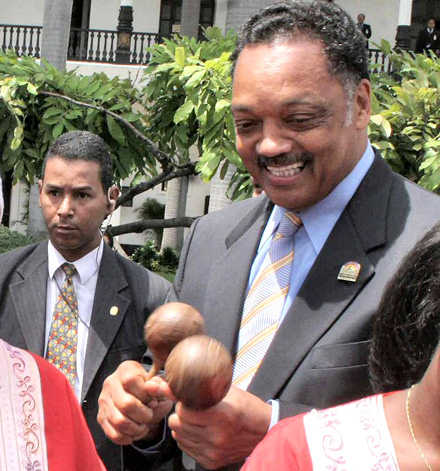 In an interview on Fox News this past Sunday, Jesse Jackson was caught in a Hymietown moment. During a pause in the segment another guest asked him what he thought about Barack Obama's speeches in black churches. Jesse Jackson thought his mic was off and revealed his true feelings.. "Barack's been talking down to black people on this faith based .. I want to cut his nuts off."
or .. "out."
Of course, with the remarks on blast, Jesse Jackson apologized for his loose lips.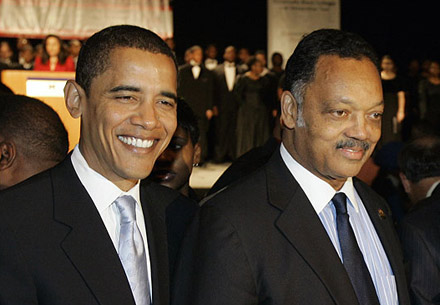 Jesse speaks.. "I said something I felt regret for - it was crude. It was very private, and very much a soundbite - and a live mic. I find no comfort in it, I find no joy in it.
They were hurtful and wrong … but we have a relationship that can survive this."
Tying this to Barack Obama's Father's Day speech where Barack said that black men need to take responsibility for their families, education, etc. Jesse Jackson told CNN that Barack Obama needs to address the real needs of African-Americans, not some .. 'moral challenge.'
Bill Burton, Barack Obama's campaign spokesman, said Barack is very aware of the community's issues and "he will continue to speak out about our responsibilities to ourselves."
Unexpectedly, Al Sharpton puts this in the right perspective..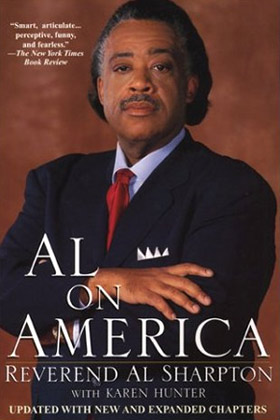 "We must be careful not to segregate Sen. Obama and impose some litmus test that is unfair and unproductive. We must be very clear that Sen. Obama ... is running for president for all Americans, not just African-Americans—which is why most Americans have embraced his campaign."