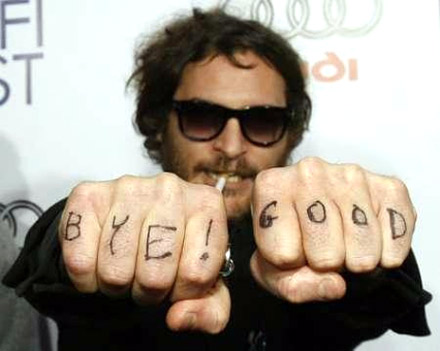 I mentioned Joaquin Phoenix's decision to leave the movie business, as a side-dig in the "Angelina Jolie Next to Quit Acting" blurb. Enough of memorizing Gladiator lines and conjuring up the ghost of Johnny Cash, Joaquin decided that he wanted to pursue his real passion - music. You hear that and think, ok the guy's got some money in the bank, he has the ability to chase his true passion. That's before you realize his music thing is going to involve rapping. I would have bet on John Mayer-like sounds, but Joaquin explained to PEOPLE: "Hip Hop? I grew up on it."
"Why hip-hop? When I was young I liked punk rock music but then I discovered rap. I love the storytelling aspect of hip-hop.. This is me saying this is who I am. This is my story.
On Friday, Joaquin Phoenix debuted 'his story' at LAVO in Las Vegas. Disturbing is the best way to describe it. In the club and online, people seem to be waiting for the punchline, as if he really can't be serious about this. Is it even him? Looks like it. Compare the guy in the video with PEOPLE's pic.
After the intro he got all House of Pain on folks..
Joaquin Phoenix is ready for you oh-so-critical, creative illiterates.. "Are there people out there who think I'm a joke? I'm sure there will be. Are there people who think it's going to suck? Probably, but I can't worry about that."
He falls off the stage in that clip. Let's just say this leaving Hollywood thing looks like he's really in need of a room at Cirque Lodge.