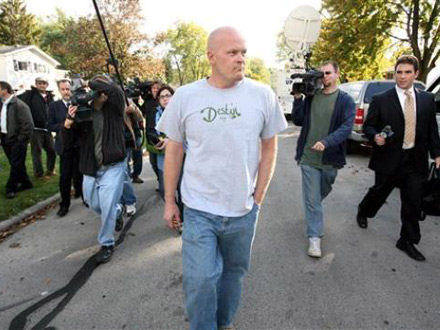 Well, you know, he's just a working Joe.. or a working Samuel Wurzelbacher. There are so many names you can give this guy. I like to call him John McCain's last big mistake. This past weekend, Joe the Plumber left his tool belt in Ohio and flew to New York to make a guest appearance on Mike Hucakbee's FOX news show. Since he was in the big city, on Saturday, Joe decided to visit Jay-Z's 40/40 club.
He got lost on the way, so he stopped at a nearby bar, had a few drinks and eventually made it to the club. No word if he was dancing to T.I. joints once he got inside or if Shawn Carter was in the building at the time (he was likely at the World Music Awards)..
but Joe told AM NY he was impressed by New York City.
"Wow, it's intense," he said. "It's just a lot for a country boy."