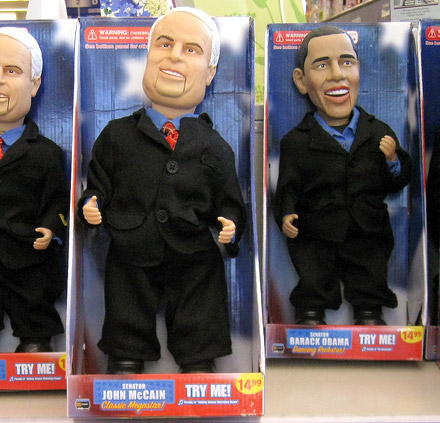 Ready for Friday's presidential debate? It's only going to happen if there is a Chucky doll of John McCain on the other side of the stage. This morning Barack Obama called John McCain to suggest they prepare a joint statement about the financial crisis. John McCain agreed and added that he was thinking about suspending his campaign. Nothing concrete. Just a thought.
This afternoon John McCain held a press conference to say he was suspending his campaign, stopping all TV ads, and wants to postpone Friday's debate. This he said, would allow he and Barack Obama to go to Washington to make sure all goes well with the bailout package.
This announcement was out of left field, the joint statement they talked about never happened, so Barack Obama did his share solo.
He also responded to John McCain's call to stop everything to deal with the bailout package.
Barack Obama Responds to John McCain's Debate Delay
"I believe that we should continue to have the debate.."
"Presidents are going to have to deal with more than one thing at a time. It's not necessary for us to think we can only do one thing and suspend everything else.. I think that it makes sense for us to present ourselves before the American people, to talk about the nature of the problems we're having with our financial system… If it turns out that we need to be in Washington, we've both got big planes. We've painted our slogans on the side of them. They can get us to Washington DC and back to Mississippi fairly quickly.."
There was a Washington Post article being passed around yesterday "McCain Loses His Head" by Republican columnist George Will, he said John McCain is.. "behaving like a flustered rookie playing in a league too high" and "is not suited to the presidency."
By dropping everything to deal with something that is already being handled, it looks like John McCain is helping to bold that point.