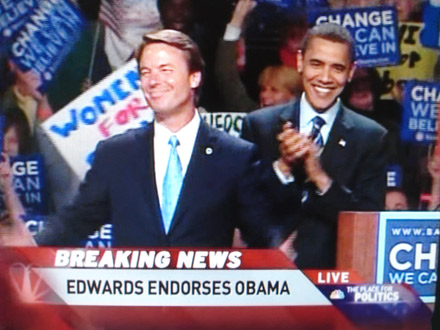 Today John Edwards made his decision to endorse Barack Obama. I wish I was surprised, but from everything Edwards said during interviews earlier this week, it was clear he wasn't supporting Hillary Clinton.
Throughout this primary season, Barack Obama has been able to get major endorsements to clean up a mess.
Ted Kennedy gave Barack Obama tremendous credibility after Bill Clinton tried to relate his success to something like Jesse Jackson's; Bill Richardson stepped in when the typical breeze was blowing; and John Edwards comes right after Hillary Clinton pulled off a 41% win in West Virginia.
He's a Muslim
Gotta love those West Virginian voters.
John Edwards Endorses Barack Obama - Part 1
"We've been in this kind of place before. In times of war, great depression, deep divisions that tore at the soul of this nation. We came together and we went to work to make sure that we passed on a stronger and better country to our children.
We will meet this challenge again, this is who we are."
John Edwards Endorses Barack Obama - Part 2
"This is our moment. This is our time to take down these walls, to close our divide, and build one America that we all believe in. If you want that. If you believe in that.. then join me in helping send Barack Obama to 1600 Pennsylvania Avenue!
Because what all of us believe, is in this America that we love so much, no matter who you are, no matter who your family is, and no matter what the color of your skin, none of those things will control your destiny.
And that one America that I talked about, is not only possible, but it will be achieved under President Barack Obama!"