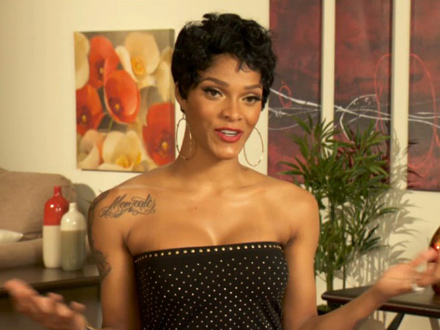 One episode in and Joseline Hernandez is the star of Love and Hip-Hop Atlanta. The former stripper/Rihanna look-a-like's incredulous in-your-face 'management' issues between her, Stevie J. and his girlfriend, Mimi, has everyone talking. For me, it's her indecipherable accent; a mix of Spanish, hood, southern yams and brash ignorance.
I know @MsJoseline, I'm not/you're not ignorant, but Concreteloop got it right.
Okay. VH1, I'm gonna need some closed captions for Joseline. #LHHATL Sincerely The People.

— CONCRETELOOP.COM (@ConcreteLoop) June 19, 2012
Check out Joseline's VH1 profile video.
"I just really want to teach young girls how to really make it without having to do the things that I had to do. Being in the streets since I was 13-years-old. On my own. Stripping at a young age. I just want to show girls that they can love their self more and know that they can do something with their life."
Immediately after that, those slick VH1 producers cut to her throwing a drink at Stevie J. That ain't right.