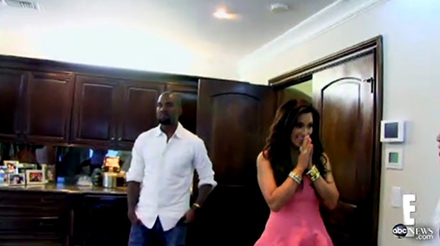 Last night, during the final show of a three-night run at Revel's Ovation Hall in Atlantic City, Kanye West stopped a song, auto-tune still ringing in the mic, and asked the audience Can we make some noise for my baby momma? And just like that, the world found out that Kanye West and Kim Kardashian are having a baby.
For the doubtful, it was this video clip that cemented it.
The jokes are flying fast and furious, but all I'll say is congratulations to the both of them.
Kanye is happy with her and I never got into bashing Kim Kardashian. For what? She's talentless? Yeah. So stop watching her show. I don't. Her marriage lasted 72 days? You take that personal? She slept with eight guys, that we know of, best believe some of you have numbers well above that range, difference is, you don't live your life in public.
Also, she's just not a mean spirited person.
If Kim was falling out of clubs, drunk off her ass, and just a foul mouthed, out of control diva, it would take her down ten pegs; but until then, let that chick live. As if I need to give her the go ahead.
Again, congrats.
Oh yeah, pictures from Kanye's Atlantic City show are on Normal. Looks like he went all out.