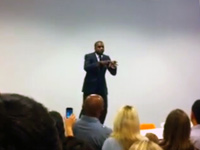 This afternoon, Kanye West showed up at Facebook's headquarters, in Palo Alto, California, and took a few minutes to give the people who keep your friends, and the friends of your friends, friends, connected, acappella verses from songs off his new album, Good Ass Job.
Let's assume Kanye's suit is part of the look he's going for this time around: good ass suit, good ass job, not confirmed, but it makes sense. He performed four songs: "Mama's Boyfriend," "Lost in the World," "Chain Heavy," and Sweat on My Face."
Here's "Mama's Boyfriend"
A whole lot of people will relate to that..
Then let's go, "My chain heavy, my chain too heavy, my chain heavy ... " Nope, he's not talking about jewelry.
Give it a minute, Kanye doesn't really flow until the 2 minute mark.
Good Ass Job is going to be massive.