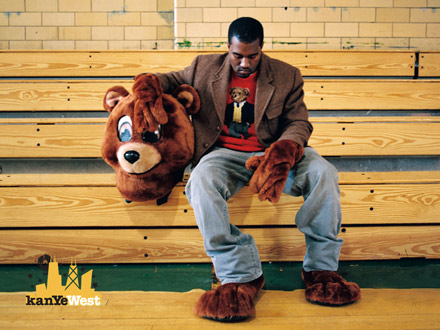 After hearing of his mother's death last week, Kanye West took a boomerang flight, from the UK, back to Los Angeles. Soon after, he canceled some European concert dates, pulled out of a performance at the Victoria Secret Fashion Show held this Thursday at the Kodak Theater in Hollywood, and chose not to attend a Chicago State University memorial service the school arranged for his mother. In his absence Kanye West's cousin represented the family.
All of those things are completely expected and understandable as Kanye sorts out his emotions and gets things settled within himself. So it was a big surprise when he flew to Paris over the weekend to get back to the stage at Le Zenith.
Apparently the same concert dates he canceled, Kanye was ready to get back in action.
So he was performing in Paris on Saturday, the concert is going well. Toward the end of the performance the sounds of "Hey Mama" start playing and he says to the audience, "this song is for my mother… "
That was it. He couldn't make it through the song.
With his head down, hands over his face, Kanye started crying on stage. In the video you can hear someone in the audience say, "R.I.P.", then a large part of the audience begins chanting "Kanye! Kanye!" It was a spiritual hug through the arena.
When it was apparent he was really having a hard time, three members of his band, a backup singer, DJ, and a guitar player went over to comfort him. The video stops before showing Kanye walk off stage. Once he got backstage, Kanye gathered himself and returned to finish the concert with a performance of..
Who knows if it is the song he was supposed to conclude with, but you can only imagine the energy and passion in his voice as he rapped, "N-N-Now that that that don't kill me, could only make me stronger."
This line is in "Stronger," but it's said Kanye told the audience at the start of the concert that he needed them right now.
Kanye's fiance, Alexis Phifer was with him in Paris, but it seems like he's seeking comfort for the pain of losing his mother from the one thing he truly loves now: music. That's not a slap at Alexis nor a question of his feelings for her. I'm saying, his passion is music and he's wrapping himself in the energy he gets from it.
Kanye had another concert date scheduled in Brussels, but he's now expected back on U.S. soil to attend his mother's funeral on Tuesday.
Man, I hope this kid gets through this.