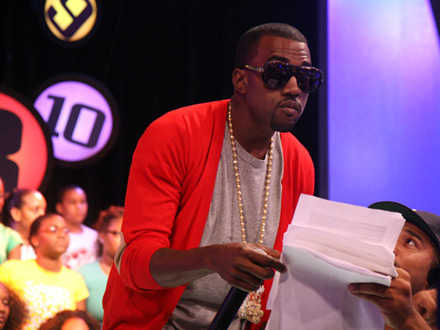 Kanye West is on the cover of this month's XXL magazine.
If I may borrow a line.. "you can't tell me nothing" .. the first response to Kanye's answer to an interview question (especially when it's about himself) is that he's an arrogant, likes to run his mouth, funny dressing punk. Said without acknowledging that those things are exactly what makes him pop/blog material - someone to talk about. Not to mention they are also the specks of the 'genius' that goes into what and how he makes music. Flip the attributes - a humble, quiet, fashionably acceptable, nice guy - that's someone who would walk through the music world like the invisible man.
In the article Kanye reveals a lot about how he approaches making music in a climate where the shocking and easy gets so much attention, when that's not what he does or can fake off.. "There's nothing about wearing a pink Polo that would make anybody believe that I would hold a gun."
Pink polos. Let's pause.
Kanye spoke on the Beanie Sigel just come out the closet diss. He said he was disappointed, but never thought about kicking in his door.. "Beanie ain't no studio gangsta."
So he can get away with a smack to the face, but Kanye reads blogs and from ya'll (us) that's not gonna be tolerated.
"I would read the blogs sayin' "Kanye's gay." But it's just the constant battle with Black people and being gay. Like, we'll call something gay to diss it to the highest extent. It's a hood mentality - that's the way we think.
So, in hindsight, I'm glad he [Beanie] spoke on it, so I could speak on it.. But niggas ain't gonna be calling me gay, and I'm not gay. Don't disrespect me.

I don't have a problem with gays, but I don't be lookin at niggas.

I'm not accepting that shit.

That goes for everybody that's writing a blog or anybody that's said it in a barbershop. Don't fucking call me gay. And if a nigga really feel like they wanna disrespect me like that, come speak to me face-to-face, and whatever it's gonna be, it's gonna be.

And this ain't no threat. This is just how serious I'm taking it. Ain't no once you-reach-the-1-million-mark Eddie Murphy shit with me.

Look at the "Can't Tell Me Nothing " video..

I got the no. 1 record in the streets, and my pants is tighter than a muthafucka in that."