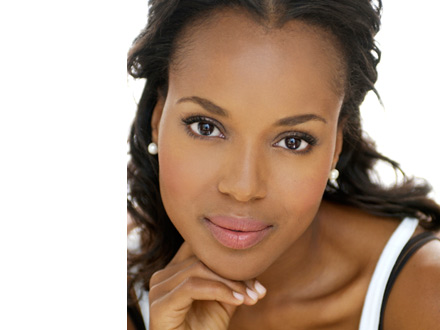 The only reason to see Chris Rock's "I Think I Love My Wife" (now on DVD) is to catch Kerry Washington in her black freak-me dress.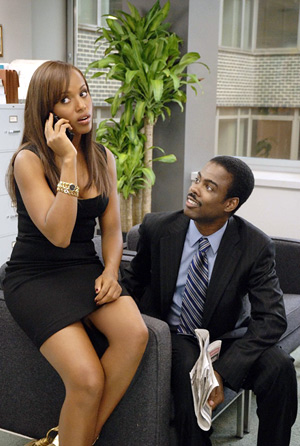 Oh, I've been a fan since Our Song, although back then she was just a chubby little something. Our Song was an independent movie and I believe her first film.
Since then Kerry Washington has made her presence felt in Ray, Last King of Scotland, the Fantastic Four series, a bit part in Mr. and Mrs. Smith, and helped Spike Lee recreate his deviant fantasies in She Hate Me.
Tack on the Loreal endorsement contract she signed last year and that's a nice climb from waiting tables in the East Village to keep the lights on.
In the latest Uptown magazine - a new Harlem based imprint that's recruited some veteran hip-hop journalists: think Cheo Coker and Aliya S. King - Kerry Washington talks about being newly single and life as a black actress in Hollywood.
She also didn't dodge questions about Little Man.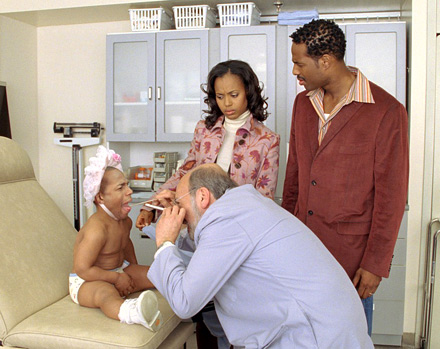 "[Laughter] I had a blast. I loved working on Little Man, and I love that my body of work goes from commercial films to indies to comedies. It's all good."
Love of acting over.. LOVE?
You're single now, after breaking off your engagement with longtime boyfriend David Moscow. Are you spending time alone?
"It's difficult to carve out that alone time. It's a big part of why I'm not engaged anymore. I am so in love with my work right now. And that's where my focus is. I was having a hard time sharing what little down time I do have with others."
I would imagine being alone is especially important if your work is emotionally draining.
"It really is. It causes little earthquakes in the soul and I come off the set and I need to stay home and write in my journal and take some time.
It can be really intense. And sometimes people will pick up other things, like shopping or drugs or men, to fill in that space.
I have to try to learn to just deal with the discomfort that comes with my job."
The opportunities for black actresses in Hollywood
Is it a good time to be a black woman in Hollywood?
"That's a complicated question. No matter who you are, there are special challenges in this industry. You have to understand..
I am a member of a union where 90 percent of the people are unemployed at any given time. So is it ever a good time to be an actor, period?"
So that doesn't make it especially difficult for a black woman?
"I think it's kind of a useless dialogue unless we're talking about how to get past difficulties. Being a woman of color isn't a burden. This is who I am. What's the point in complaining?
I mean, are there any African-American women who are movie studio heads? No. But I know I have it a lot easier than Josephine Baker and Dorothy Dandridge and many others who came before me did. I feel empowered."
Check the full interview and a Derek Luke snippet at Uptown's Next spot.