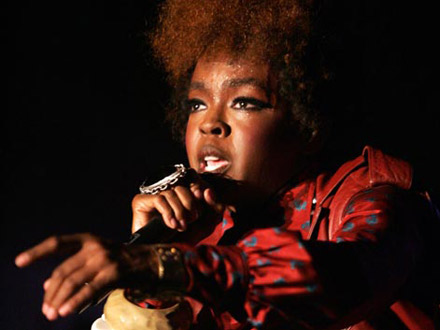 Lauryn Hill commanded Scotty to beam her down from the heavens on Monday night for a special performance at Wingate Park in Brooklyn, NY. She was two hours late getting on stage, long enough to really frustrate people. Yeah, keep people waiting and they get fidgety, especially when it's a free concert. "What kind of fuckery is this? Instead of just leaving they waited and complained. Actually 'fuckery' is what some people thought of Lauryn Hill's performance, a mashup of new songs, blended with her greatest hits, stretched and spliced with remixed arrangements, and in some cases different verses.
Depending on who you ask it was either a complete disaster or an enjoyable performance. After just a few songs into her set, two thousand or so of the estimated 12,000 people headed for the exits.
Newsday writer Rafer Guzman was a big fan.
Check the comment section.. because this is all about those that saw the show.
Miss L
"All the people saying last nights show was a disaster obviously have attention deficit disorder and didn't stay around long enough to witness an amazing performance. The people around me who left were complaining that they didn't "recognize" the songs. Its been 10 years did you really expect not to hear songs you weren't familiar with? She opened with new material which personally I'm glad she did because those who do not appreciate real music left. (many more stayed than those who left).
After that she did versions of her old tracks, some similar some "foreign" but ALL were extremely musically and creative and ALL were sung with the same passion and talent that is Miss Hill."
Tammie
"Lauryn Hill OMG she was a straight up DISASTER i don't know what planet she came from looking all lost and confused. Her outfit was a disaster she had a HUGE leather jacket on in the 90 degrees weather and a huge afro on. Damn i loved lauryn sooo much and now she looks like someone mixing crack with some of the strong stuff. I guess im gonna have to say bye bye to the lauryn i use to love may she RIP. cause the lauryn i saw last night is two different people."
JAH
"I love live music because it sounds different from a CD. But I don't think the song should be changed up so much that it's not recognizable. I didn't like the way she sang Lost Ones or Ex Factor or Zion. I just really thought it was bogus. All I wanted to do was hear her sing. I'm not getting on how she looked because that's not even really important to me. I wanted to be able to close my eyes and enjoy the concert but I couldn't. I just wasn't digging the musical arrangement. I honestly felt her arrangements took away from some of the songs, especially Lost Ones."
Bklyngal
"Monday night was truly for the open-minded music lovers. I have a new found respect for Lauryn Hill."
When it comes to things like this.. when possible, judge for yourself.
Lauryn Hill "Everything is Everything" - Wingate Park, Brooklyn NY - August 6, 2007
Lauryn Hill "Doo Wop (That Thing)" - Wingate Park, Brooklyn NY - August 6, 2007
I still think her fashion choices are what a lot of people are stuck on. Entertainment = image, especially for women. Coming from her tastefully stylish past not many are going to appreciate that red leather and plaid pants combination. She must be crazy!