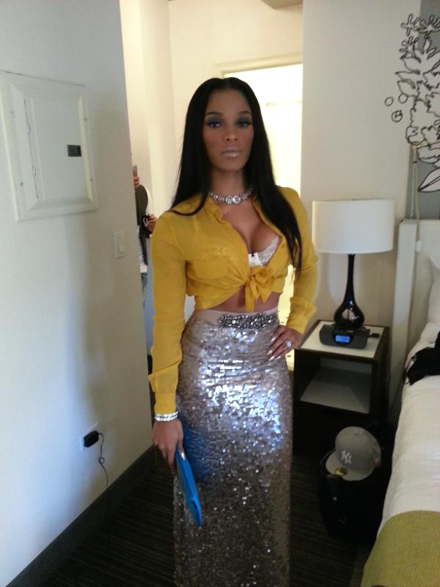 Last night as we were watching Love and Hip-Hop Atlanta, Joseline tweeted this picture of herself and mentioned that she was in New York. Turns out that Joseline was in New York for a mid-season Q&A session for online media folks. Mona Scott introduced and answered questions, to start it off, but then out came Joseline, Stevie J., K. Michelle, and Scrappy.
It felt like the reunion before the reunion show. And if Stevie J's slip-up was right, technically, that's what it was. He said VH1 is taping the reunion show today.
As in, it's probably done as we speak.
After the first show, I said Joseline Hernandez and Stevie J. were the stars of Love and Hip-Hop Atlanta. Without Joseline's looks, her accent, the WTF moments and the overall misadventures of Stevie J., the show would be molasses. Not that the other cast members don't add anything, because it's the combination that makes it entertaining, but from the first five minutes those two had everyone talking.
Making my case, when the mic was opened up for questions, it was: "My question is for… Joseline, Stevie J., Joseline, Joseline, Stevie J., and more Joseline." People were looking to take jabs, but that's evidence of their importance to the show.
K. Michelle says her piece, as always, and fulfills an acappella by request. The girl can sang. When Scrappy was asked what he's getting out of being on the show, he kept it honest.. " A check.. Ya dig!?"
Good stuff.