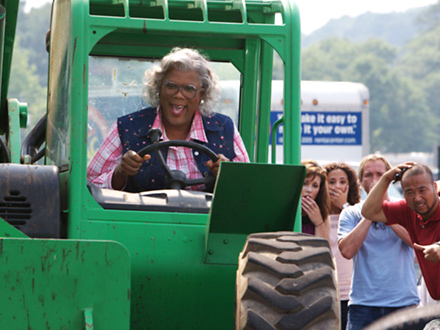 Friday morning I was checking movie listings, looking for the big weekend flik. You know, do I have to pencil in a few hours of popcorn and soda time. Only two this week: Madea Goes to Jail and Fired Up. I've only seen two Tyler Perry movies, one play, and wasn't all that motivated to make it three. Though if we were guessing which movie would be number one for the weekend, Madea would be the obvious choice. Still, talking dollars and cents, who would have guessed it would pull in $41 million for the weekend?
Quick comparison: Fired Up, the former Las Vegas girl Molly Sims' semi big screen debut, was playing in relatively the same number of theaters and managed just $6 million. We're talking $20k per screen vs. $3k. Results like that are why, critics be damned, Tyler Perry continues to befuddle Hollywood executives.
Since I didn't see Madea Goes to Jail, I can't speak on it. So let's take a trip to Reelzchannel where they stuck a mic in front of people stepping out of the darkness.
Madea Goes to Jail - What Did You Think?
Umm.. Madea Goes to Hell ?!