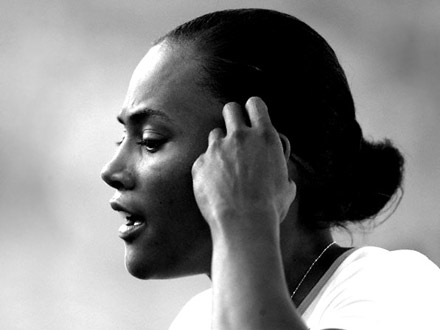 Marion Jones won three gold medals and two bronze during the 2000 Summer Olympics. Soon after the games it was suspected that she was using steroids. She passed some tests, accusations were made, lawsuits were filed, through it all Marion Jones maintained that she was innocent.
Tomorrow morning she will be in a NY courtroom to admit that she lied. She was taking steroids!
Marion Jones says her former coach Trevor Graham gave them to her during the 2000 Olympics, explaining that it was flaxseed oil. He told her to put a couple of drops under her tongue and not to tell anyone about her.. "nutritional supplement."
Who the hell puts flaxseed oil under their tongue and not think it's strange?
Marion Jones said she didn't believe Trevor Graham would have given her steroids, even though she felt and saw the changes in her body. Lots of extra-super strength and easy recovery from workouts. Let's run!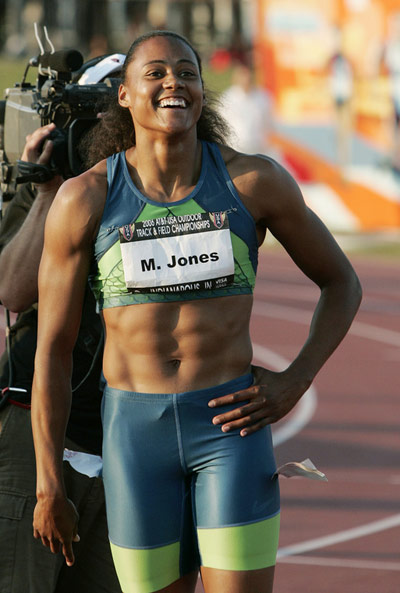 It was only after she left his training camp in 2002 that she found out what she had been taking - a steroid known as The Clear.
Which seems to be a popular "supplement." Baseball players, Gary Sheffield and Jason Giambi admitted to using it.. as well as Barry Bonds. Bonds said his trainer told him it was flaxseed oil as well.
I don't believe for a second that Bonds didn't know what he was taking, and Marion Jones feigning ignorance holds no weight if she lied about it through all of the investigations.
Jones says she lied because she panicked and didn't want her name (or her coach) attached to the scandal.
Her ex-husband a confessed steroid user, once said he saw Jones inject steroids into her stomach during the Sydney Olympics. Which in the light of her admission makes you think if he was telling the truth, and really blows the flaxseed under the tongue thing away.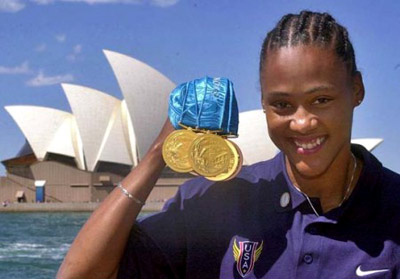 It's possible that she'll have to give these medals back.
Tim Montgomery the father of her son plead guilty this year to his part in a multi-million dollar money laundering operation. He gave Marion Jones a check for $25,000 which investigators believed came from that stash. During the investigation Jones told them she knew nothing about it. She lied. Tomorrrow she'll plead guilty to that as well. Once again, claiming that she panicked.
Bogged down in debt, forced to sell her million dollar homes and fighting off various court judgments, it's clear that Marion Jones has problems that go beyond the smiling face we saw during the Olympics.
In a letter she apologized to her family for the current situation.
I don't know her personally, but she seems like a person who made some bad life decisions. As a human being.. and a fan of people who can outrun cheetahs.. I hope she's able to turn her life around.