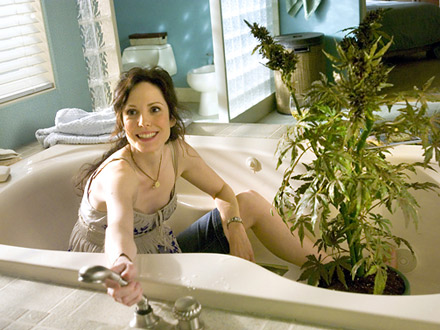 Who the hell is Mary Louise-Parker? She's the star of Showtime's Weeds aka the closest thing to an HBO show they've ever sniffed. The show is about a suburban housewife whose husband suddenly passes away and takes to selling that sticky green to make ends meet. Remember the black guy from 40-Year-Old Virgin? He's in the show too. I'm sure that's a no shit Sherlock for many of you, but I just stumbled on it in the last couple of weeks. Showtime is not on my list of must watch channels for the obvious reason - who the hell watches Showtime?
Well that can be amended now. Weeds is in its second season and I've got some DVD catching up to do. My current interest in the show is the only reason why the name Mary Louise-Parker jumped out at me while doing some surfing.
In the celeb tradition of Angelina Jolie and Madonna she's gone and adopted an African baby girl.
She was spotted with the new member of her family this past weekend (Mary already has a 3-year-old son) as she made her way to the Emmys. Must have dropped the kid off with the nanny because no pictures or further info have surfaced yet.
That stuff in the tub? That's next month's bill payments.
*edit 9/22 - Pics have surfaced. Snapped by the paparazzi on the way to the doctor's office.