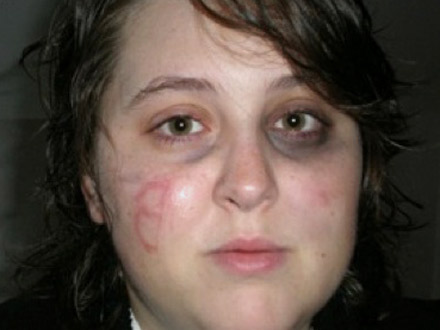 Yesterday afternoon, The Drudge Report was the first to blast the headline.. woman mugged, B carved in her face.. story developing.
That woman turned out to be 20-year-old Ashley Todd.
Ashley's story was that she was searching for an ATM in Bloomfield, Pennsylvania. Success! She hopped out of her car, only to be mugged by a 6'4 black man. As he turned to run away with her cash, said black man saw the John McCain sticker on her car and came after her a second time. I'm gonna.. "Teach you a lesson for being a McCain supporter." *scratch, scribble, black eye*.. oh, the tragedy.
When Ashley Todd's picture popped on TV this morning, I could barely contain the laughter. Who in their right mind would believe this story? First of all.. the B is backwards and that black eye is nothing but a bad mascara job, and hours after the attack, not a hint of swelling?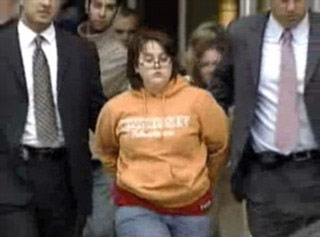 Even the cops thought she was lying, but they couldn't come right out and say so. During questioning, Ashley didn't help to make her case, she made the story even more fantastic. Now, not only did this guy rob her, she was also sexually assaulted. That was enough to prompt cops to give her a lie detector test (results weren't released) but flop sweating from the pressure, Ashley confessed that she made it all up.
Of course, she conveniently added that she's 'crazy.'
"She indicated that she has prior mental problems and she does not remember how the backward letter B got on her face." - Pittsburgh police spokeswoman Diane Richard.
Yes, B stands for bullshit!
I should brake on that. Knowing some people who've had mental breakdowns, it's hard to completely smash her. But Ashley isn't some random girl pushed into the political stream. She is a John McCain campaign volunteer and an active member of a group called 50 College Republicans. They blog at Life in the Field and although they've condemned her actions too, seem to think dressing up like this makes the case for a McCain/Palin vote.