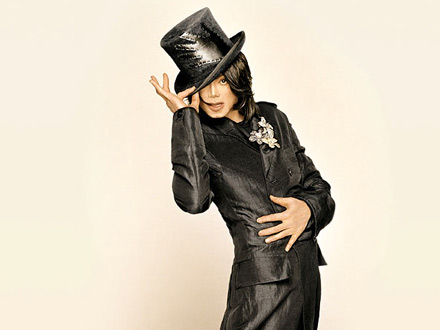 25 years ago Micheal Jackson's Thriller was killing the music charts. No one will ever forget the multi-zippered, red leather jacket; the one glove magic; or the first time they saw the movie-like music video with zombies dancing in the street. Women all over the globe would lose their minds at the sight of him; men fanaticly mimiced his dance moves; American, Ethiopian, Chilean or straight from Borat town, Michael Jackson mania was in complete effect.
When it was all said and done, Michael Jackson sold 42 million copies of Thriller, the highest selling album of all time; 750 million albums throughout his career. 50 don't want nothing to do with those numbers.
To commemorate the 25th anniversary of Thriller, Ebony magazine slapped Michael Jackson on their December cover and somehow managed to get him into the middle of Brooklyn for a photo shoot at the Brooklyn Museum of Art without anyone finding out about it til now.
Here's a lil' outtake of the whole affair.
Top of the list in any conversation about Michael Jackson is sure to include all the freakish things he's done to himself, surrounded himself by, and has allegedly done to others. For a couple of years Michael Jackson was every comedian's softball joke. Easy laughs.
In the magazine interview Michael Jackson was asked how he feels about being labeled as 'Wacko Jacko,' Elizabeth Taylor, kid toucher, *pointing at a crushed Twinkie on the floor* "Hey, what's that!?" .. What's what?.. "Nothing, I thought it was your nose."
Michael, comment?..
"I don't pay attention to that. In my opinion, it's ignorance. It's usually not based on fact. ... Every neighborhood has the guy who you don't see, so you gossip about him. You see those stories about him, there's the myth that he did this or he did that. People are crazy!
When you're on top of your game, when you're a pioneer, people come at you. ... But I feel grateful, all those record-breaking things, to the biggest albums, to those No. 1s, I still feel grateful."
Jokes aside, personal mess all his, have you listened to a Michael Jackson song lately? I'm talking, taking a step back and giving a listen to any of his old tracks.
"Wanna Be Startin Somethin'" is in one of XM radio's latest ads, they play it constantly. It's a swift reminder why he was the King of Pop. At work on a new album, how does The King feel about todays' music?
"I don't think people are being as experimental and innovative enough. I know people can easily say, 'Well, we don't have the Michael Jackson budget.' Wrong, you can be so creative with almost nothing. And that's usually the best stuff, when you strip it down to the bare minimum and go inside yourself and invent.
I always want to do music that influences and inspires each generation. Let's face it, who wants mortality? You want what you create to live, and I give my all in my work because I want it to live."