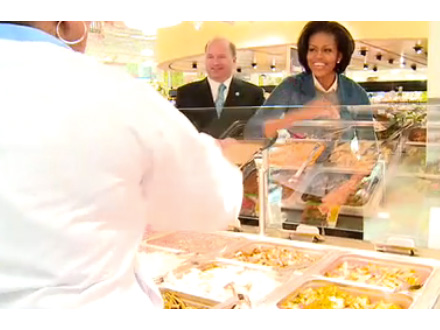 As part of Let's Move, the campaign to end child obesity, First Lady Michelle Obama is taking on food deserts. Not dessert - as in chocolate cake and cookies. Desert - as in neighborhoods with any number of fried chicken spots, Chinese restaurants behind bullet proof glass, and corner convenience stores stocked with sodas, chips, 'cigar wrappers', and not much else. In short, a food desert is a place strangely absent of fresh fruit and vegetables. We're talking areas of the country you might live in and if you have ever ventured to 'the other side of town,' the differences in food quality is striking. As a result, people who live in food deserts resort to eating food tagged responsible for weight gain and later in life, health problems.
Michelle Obama announced an ambitious $400 million effort to eradicate food deserts within 7 years.
Yes, that would be two Obama terms.