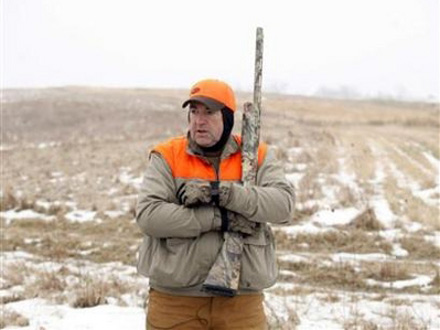 This afternoon, Mike Huckabee spoke at a National Rifle Association event in Louisville, Kentucky. In the middle of his 20 minute speech a noise came from offstage. Mike Huckabee looked over his shoulder and without missing a beat said..
"That was Barack Obama, he just tripped off a chair. He's getting ready to speak. Somebody aimed a gun at him and he dove for the floor."
Wow! I'm not one to jump on every little statement or flub, but that was crazy.
In the heat of Barack Obama's former pastor troubles (see how I ignore him) Mike Huckabee was the voice of reason on the Republican side. He practically defended Barack, saying that he (Huckabee) grew up in the South and there are a lot of preachers that say wild things. So I find it hard to believe that Mike Huckabee would make an.. assassination joke.
Since it was an NRA event, it was probably a reference to Barack Obama's strong stance on gun control >> he's scared of guns.
I could be wrong. But I hope not.
In the speech, Huckabee said.. "I'm not sure Senator Obama or Senator Clinton really get it."
Barack Obama's campaign hasn't responded to his comedic stylings.