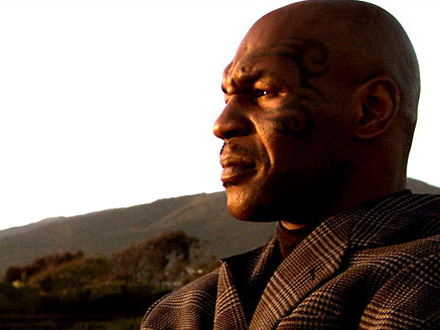 Yesterday The New York Times posted an article about a Mike Tyson documentary called Tyson. Picking from thirty hours of exclusive interviews, director James Toback believes he has come up with the most insightful look at the rise and fall of the former knockout artist to date. Mike Tyson thinks he revealed too much.
Speaking to The New York Times, Tyson admitted that he is completely lost, "I don't know who I am," he said in an interview in his Las Vegas home, one of the few extensive interviews he's given in the last few years. "That might sound stupid. I really have no idea. All my life I've been drinking and drugging and partying, and all of a sudden this comes to a stop."
Last month, in an ESPN E:60 interview, Tyson gave it up as well. Talking about a court mandated order to stay sober (he's tested every month,) Tyson said.. "I want to take drugs every day, drink every day, but I don't because I made that commitment."
Flip back to The New York Times, though..
"I just say I'm not getting high today. I'm not promising them I'm not getting high tomorrow. I'm trying to figure it out. I'm in an abysmal world trying to figure it out."
Mike Tyson is a sad case. You've got to feel some kind of sympathy for him: the sharks and snakes tore him apart. With the level of business and game knowledge he had the man never stood a chance
That ESPN interview was pretty good, especially the part about hating his accountant.
Part 1
Part 2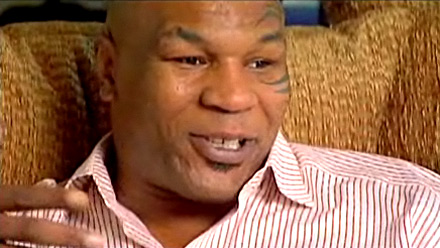 What's a daily routine for Mike Tyson?
"Get up, clean my bed, watch television. Call my accountant. Hear him say, no he's not going to give me any money. (laughs) No, really this is the kind of life I live .. this is really a mess. I really hate this guy for that. I just despise this guy."
But you listen to him?
"Dude, the guy has the money. What am I gonna say?"
—
I'm not sure what the Tyson documentary can add. We'll see when it gets to DVD (No one is gonna do the popcorn and soda thing for that.)