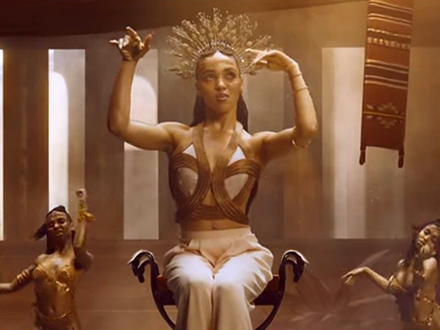 UK artist, FKA Twigs debut album "LP 1" will be released on August 12. On Monday, she released the video for the first single "Two Weeks" and it is phenomenal. If for no other reason than it's use of minimalism.
We're talking one scene, the camera pans down, taking about half of the song to fully unveil Queen Twigs basking in Egyptian splendor with the many FKA Twigs dancers at her feet. Unconsciously being forced to slow down to watch this happen, with the lush music and vocals, gives the video a cinematic touch.
FKA Twigs is an artist who continues to express her individuality by intentionally coloring at the edge of and mostly, beyond the outlines of current trends; living the artist's way.
Unique, these days.