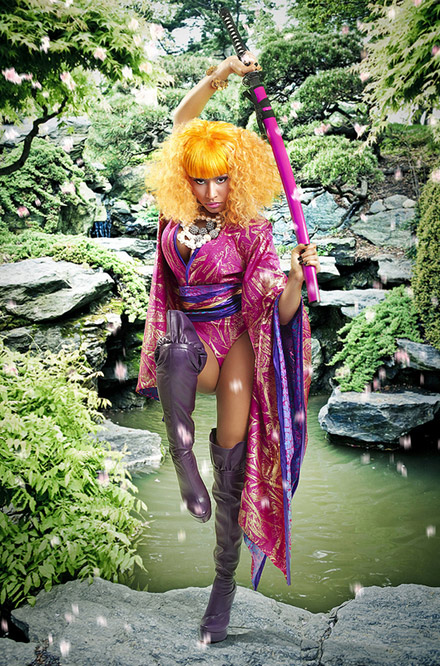 There she is: Nicki Minaj in a new promotional photo that she's calling "Samurai Nicki." It's a great, creative shot. Now if there is a music industry God, or an assistant that handles this aspect of keeping people entertained, it's part of a campaign for Nicki Minaj's debut album Pink Friday, tentatively set for release on November 23. Yeah, the album is coming. Unbelievably, Nicki Minaj recently told Honey magazine she really wanted to release Pink Friday next year, but felt pressured to do so by Cash Money ie. Baby.
Her fear? "I don't feel like people really know me yet."
Really? How many guest spots/verses on random songs is it going to take? Nicki Minaj is beyond due to release this album. If she waits and longer, she risks cooling off and people (the Barbie army) getting tired of her, before she has a chance to list the first official entry in her discography. Learn Jay-Z''s blueprint for a 10+ album career: Don't waste lyrics. If the history books were shut right now, musically, Nicki Minaj would be known for one great mixtape and some appearances.
Anyway, with Lil Wayne bouncing off Rikers Island in November, he'll likely want to get on a track or two. That'd be a triumphant move and would surely boost sales. So there is a chance her album will get pushed back and Nicki gets her wish for that 2011 release date. Or maybe, you will still get lucky and instead of Friday, you get a Barbie for Christmas! Hmm, grab the camera, I see another photoshoot