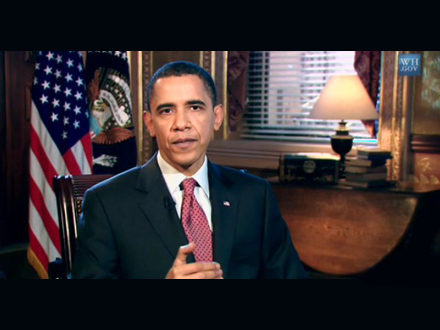 Is there any reason why president's Weekly Addresses aren't broadcast on TV stations every Saturday? At five minutes, it seems like a no-brainer way to keep people informed of the state of the nation. This idea was relevant for George Bush's presidency, especially during the Iraq war, and boomerangs to the present with Barack Obama and the economy being devastated by Wall Street's financial crisis. I do know the answer to my question, but explaining it will lead into a four page Neil Postman discourse, cross tracks to a rant about rats wearing $300 ties, and just overall shenanigans.
Not to mention it's Saturday and I've got about 15 minutes to get out of the house. TV is such an afterthought these days, anyway, so let's broadcast OB's address here.
This week there were signs that the economy's job losses have slowed and temp help and worker's hours have increased. According to the people that dig into numbers, those are indications that, where help is needed, permanent/new hiring soon follows. No sense in assuming when real jobs are needed, next Tuesday, President Obama will deliver a speech to announce a plan to 'jump-start' hiring across America.
Enough of me.. here's President Obama's Weekly Address