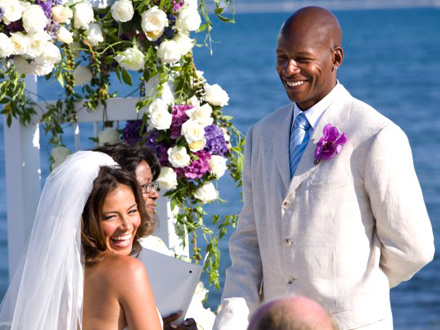 After winning his first NBA championship ring, Ray Allen decided to give his longtime girlfriend Shannon Walker Williams a ring of her own.
The couple married over the weekend at a private ceremony in Martha's Vineyard. They met when Ray Allen was a youngster playing ball at UConn, got engaged five years ago and have three kids together. ← You see, patience ladies. It takes time, but miracles do happen.
Like that episode of Martin, when Martin finally popped the question to Gina, the Allens were serenaded by Brian McKnight.
He laid his silky vocals on "Never Felt This Way" - the song Ray Allen proposed to Shannon with.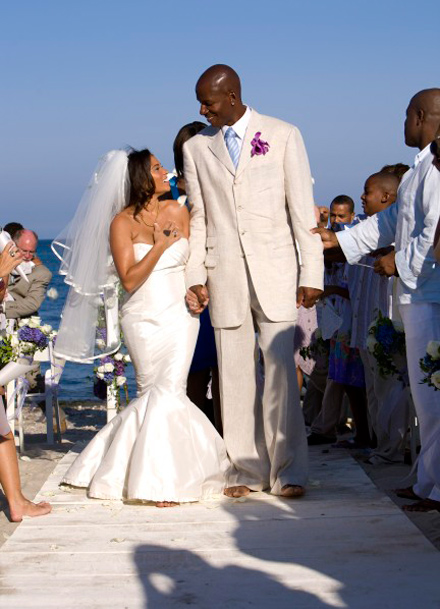 The Boston Herald reports, "The bride wore a white fitted Melissa Sweet gown and veil, while the world champion groom had on a white suit, blue-and-white striped tie and a violet orchid in his lapel."
What they didn't explain was the lack of shoes.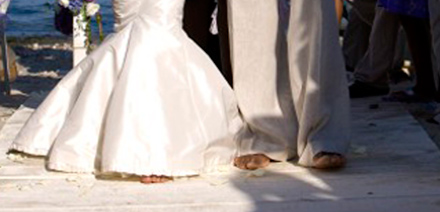 Fully dressed and suited with the big toes exposed?
Am I missing some new wedding tradition or did the waterfront location mean all loafers and sandals would be checked at the gate?
I'm joking, of course. Good luck to the happy couple.