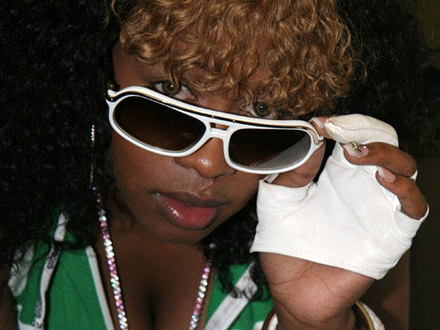 Next Tuesday, Remy Ma will stand before a Manhattan judge to find out how many years, months, or days (What up, Mike) she will spend behind bars. Facing charges of shooting her friend Makeda Barnes-Joseph in the stomach during a dispute over money, a jury found Remy Ma guilty of first-degree assault, attempted coercion, and criminal possession of a weapon. She faces 5 - 25 years in jail.
That is not Foxy Brown or Lil Kim, stand in the corner for a month or two, time. That's Shyne, Slick Rick, your career is finito, time.
Remy Ma called Kay Slay's radio show last Wednesday (rebroadcast last night.) She stuck to her belief that she wasn't guilty. Repeatedly saying she's "forever innocent" and claimed her conviction was a result of influential rappers being targeted by the system.
She talked about being locked down at Rikers for 23 hours a day and "eating mad macaroni."
Remember all that stuff about crying in the court room? Forget it. She adapted quick. Sounded like she was calling from her Bronx apartment.
"Ya'll already know, May 13 I'm in court. I need ya'll to come out there and support. Just because twelve people say something, who weren't there, does not mean nothing. I'm not even mad at people. I'm mad at what money or lack of money does to people. It's really sad."
Makeda was shot. That's a fact. If Remy wasn't the shooter, isn't she really a victim of not snitching? Somebody owes her lots of macaroni and..