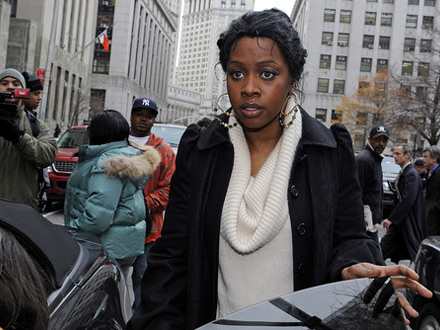 This afternoon Remy Ma was sentenced to eight years in jail for shooting Makeda-Barnes Joseph in the stomach.
When the verdict was read, Remy's soon-to-be-husband, Papoose went wild in the courtroom. He screamed, "Get the f-ck off me. F-ck ya'll. F-ck jail." Friends tried to restrain him and court officers told him to keep it moving as he middle-fingered the legal system.. "I don't care. Lock me up. Lock me up. Take me to jail. Arrest me. It's all about money."
See >> "Remy Ma Sentenced to Eight Years as Papoose Explodes .."
Two weeks ago, Remy Ma called DJ Kay Slay's radio show in good spirits, saying she was innocent and basically a victim, because she didn't have the kind of money it takes to put up a true defense in court.
Remy continued that today..
"Throughout this unfortunate case, I was advised from my attorney to stay silent but now I want you all to see me for me and what I've gone through. Reporters and newspapers have called me a 'hardcore rapper,' a 'hip-hop harlot' - Remy Ma is just a music industry name. A facade. I'm not a thug. I'm not a hardcore anything. I have feelings. I'm Remy Smith - No, I'm Remy Mackie. I'm a wife, mother, daughter and big sister."
Judge Rena Unilever gave Remy less than the 13 years the prosecution wanted, but wasn't convinced by Remy's angelic claims. "This is a pattern," Unilever said. "The previous times haven't been as severe. Smith doesn't take responsibility for her actions. Her letter to the court and her statement today showed no remorse. She even painted herself as the victim."
Remy Ma's attorneys plan to file an appeal.
And despite the jailhouse wedding being called off yesterday, she and Papoose are still getting married.
*Papoose's govt. name is Shamele Mackie. That's where she got that 'I'm Remy Mackie' from.*