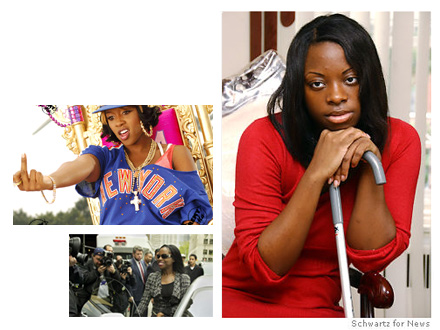 The alleged victim of Remy Ma's twitchy finger, and former friend, Makeda Barnes-Joseph recently spoke to the NY Daily News about Remy Ma and because of events leading to her new home on Riker's island, Foxy Brown.. "They feel that they can do whatever they want and get away with it," said Makeda. "They think that because they're rappers that they need to make a name for themselves. It's ridiculous, the stupid things she [Foxy Brown] is doing."
"Because they're hard-core female rappers, they [think they] have to live up to what they say in their raps."
Umm, was she thinking that the night she was hanging out with a 'hardcore female rapper?'
Pictured with a cane - and looking eerily like Foxy Brown, (don't you think?) - Makeda was released from the hospital a few weeks ago. She sees a physical therapist every other day and will have more surgery done in October.
Prosecutors have yet to bring formal charges against Remy Ma. The case is still being investigated.
She's free on $250,000 bail until her next court date - November 29th.
Some eyewitness accounts of that night say Remy Ma and Makeda were arguing, when shots rang out and Makeda just went down - suggesting that someone else shot her. Why then would Remy take off from the scene so fast that she crashed her Escalade and hopped into a cab to get away?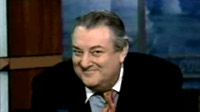 Doing his job, Remy Ma's lawyer Ivan Fisher hammered the 'reasonable doubt' nail in.
"I suspect that the district attorney's getting conflicting views of the events from various witnesses and doesn't want to go before a grand jury until he's sure of what happened.
No view of the events that has surfaced publicly is accurate."
Confined to bed, with the scars and pain of a gun shot to the belly, Makeda seems to know exactly who pulled the trigger that night..
"I sit here and I try to think every day, 'Why is she doing that? How can she deny that?"