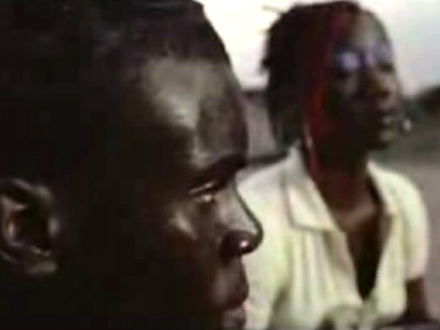 Gnarls Barkley's second single and video "Going On" debuted this afternoon. In classic Gnarly creative tradition, they went the unorthodox route: they're not in the video at all. Set in an African (Caribbean?) country, a bunch of kids discover a portal to another world. After some initial dancing and singing with friends, a guy and girl break away from the pack and set the doorway to a new place down in the middle of a dirt path. The guy hops through.
What nails the video are the words that pop on the screen next >>
"Don't Follow Me."
Of course, the girl follows him anyway.
That says it all about the creative world we live in. Music, TV, movies, everyone does what the next is doing because it worked for them - not because it's best for them.
Q-Tip touched on the solution in this month's Waxpoetics..
".. Be who you are, don't be afraid to say what you want, believe in it, and you don't have to fit in with everything else that's going on. It's okay to be Black and be smart, Black and like art, and want to read. It's okay to be Black and be healthy, or be Black and be a man and say I love you or cry..
For so long African-American celebrities, artists, and musicians were not allowed to live. We can only be a few things as Black people. We really have to break those things, because outside of that is where our liberation truly starts."