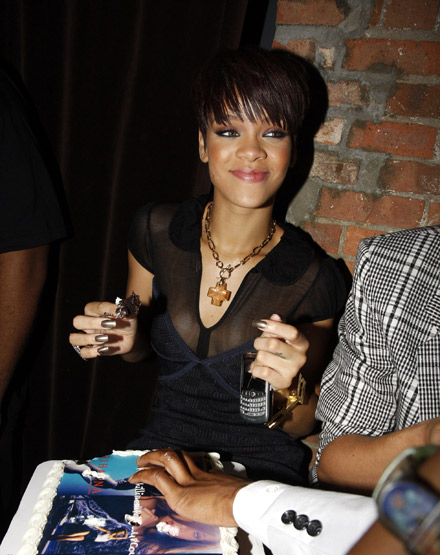 Rihanna fired her business manager Patricia Williams after discovering there was only $20,000 in her bank account. Rihanna accused Williams of stealing (a lot of) money from her.
That's the rumor that's smoldering like a West coast brush fire. It's been posted on message boards and various blogs. Page Six is the supposed source of the story, but I didn't see it on the NY Post's site.
Maybe like those brush fires, a quick call from a publicist splashed water on the story to keep it from blazing out of control.
It's the detail that makes this ring true..
But remember, this is one of those.. 'word on the street' things.
Rihanna's now ex-business manager Patricia Williams has been recently fired as she says "for no good reason, all in ignorance" and is "livid" with Rihanna & her management company Rebel One's decision to fire her. Rihanna recently met with Willliams to check on her accounting affairs and was shocked to see that almost all her money was missing.
She instantly accused Williams of "stealing her money."
Patricia Williams speaks..
"I'm a professional Business Manager, I have a staff of more than a dozen, I have worked for many high profile actors, musicians and multi-million dollar corporations. Why would I steal from Rihanna? I showed her all the paperwork and tried to explain to her the circumstances but she wouldn't listen. She called me all sorts of horrible names and stormed off. I now feel compelled to share with the world the background story as I will not allow my name to be slandered"
The Barbados born singer has had four back-to-back albums, including a re-release since her debut of "Pon De Replay" in 2005. According to Willliams, Marc Jordan, manager and owner of Rebel One Management has been taking care of Rihanna's financial situation with her.
"Def Jam doesn't fund Rihanna properly, so Marc uses the money Rihanna makes from third-party endorsements and from tours to fund her album and music videos."
"Since 2005, Rihanna has been sponsored by the likes of JC Penny, Samsung, CoverGirl, Secret, Venus Breeze etc, and has gone on two major tours, most recently label-mate Kanye West's "Glow in the Dark" Tour and with Pussy Cat Dolls across Europe. I don't want to disrespect Marc's name. He is a fantastic manager and genuinely believes in Rihanna. But he uses her money to fund her future projects because he believes he can break her in the world-market. Her album sales are not nearly as close to her single sales and he knows that if she is only known as a 'singles artist' she will only be as good as her last hit. Unfortunately, he didn't inform his client and I'm receiving the brunt of it."
"Her record label Def Jam has put out 3 albums in a time span of 2 years. A lot of that was orchestrated through her management Rebel One. It was never Def Jam's intention to release so many albums back-to-back but Marc Jordan found loop holes and ways to make it happen.
A lot of the money Rihanna made was through her endorsements between CoverGirl cosmetics, Samsung.. Notice that majority of Rihanna's videos have a cell phone in it?"
"After the release of Rihanna and Teairra Mari, Def Jam had the intention to drop both acts because their album sales were not successful. Her manager fought to get "S.O.S (Rescue Me)" and quickly tried to negotiate with as many companies as possible. Nike picked up the song and funded a video."
"This brought the hype back for Rihanna in the company's New York office. The majority of the official 'S.O.S' video was funded by Samsung because the record label was only willing to put up a small amount. Once 'S.O.S' picked up digitally and at radio, Def Jam agreed to fund the rest of her album. Jordan instantly got a video shot to 'Unfaithful' (he negotiated with video director Anthony Mandler to drop his price and would be given more videos from Rihanna in return)."
"Then they shot 'We Ride' which was an extremely cheap video to create. 'Break It Off' was released as a third album, but again, Def Jam was unhappy with the sales of her album A Girl Like Me and refused to shoot a video."
"At this point Rihanna was opening up for the Pussy Cat Doll's in Europe. She was making 30,000 a show but she didn't see any of that money because it was needed to fund her next album." Which is now known to the greater public as a Good Girl Gone Bad."
"The song "Umbrella" was found & Jordan fought again for Rihanna to have it. They shot the video, which CoverGirl funded half of, and the song became a success. When the record label had their meeting with Music Stores across the U.S to order her album for shipment, the number's weren't coming in the way that they expected."
"When the album's first week numbers came in at less than 150,000, the label was shocked. Def Jam's President LA Reid was livid! "Umbrella" was #1 for 11 weeks! Any other artist would have sold way more first week. T-Pain even did better in sales than her that week. Def Jam told Jordan they were no longer funding the album, so Jordan needed money again to pay for music videos 'Shut Up & Drive' and 'Dont Stop The Music'. Almost 250,000 was spent to have those videos created. Plus, an additional 120,000 to shoot 'Hate That I Love You'."
"Jordan was noticing that 'Dont Stop The Music' was picking up, so he persuaded the label to support it at radio in the U.S and the remaining singles, and they did. Then came for the repackaging of her album Good Girl Gone Bad, which is called Good Girl Gone Bad: Reloaded, that entire project was funded through Rihanna's money.
"'Take A Bow' was bought through her money, the video was created with her money and so is her most recent video and single 'Disturbia'. The label didn't even want to pay a dime for anything! Close to 750,000 was spent on those two songs alone. And now she expects to see money in her account?"
Williams states that Jordan, her publicist from well-respected public relations firm 42-West, Alicia Silverman has built alot of hype around Rihanna's name but the singer has only made "a little bit above a million" and "all of it was spent on making her as big as she is now."
"It's not my fault that she only has 20,000 to her name."
Get all of that?
If this is all true, it's incredibly shortsighted of Patricia Williams to clear up what was only known in industry circles, to the public, who will only hear.. Rihanna is 'broke.' That's a way to get yourself that next job. <
<
I'm telling every damn thing.