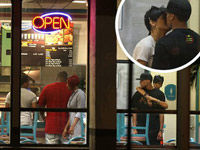 One of the perks of being a celebrity is the freebies tossed their way, just for a glimmer of sunshine they can bring to a company's product or service. Rihanna and Chris Brown are discovering this.
After being candidly photographed in KFC last week and the flood of blog posts and TV celeb chatter, KFC's chief marketing officer sent Rihanna and Chris Brown a Thank You letter and an offer for a free chicken meal (including the Colonel's Hot Wings - for lunch or dinner) at any KFC in the country.
Here's a copy of the letter..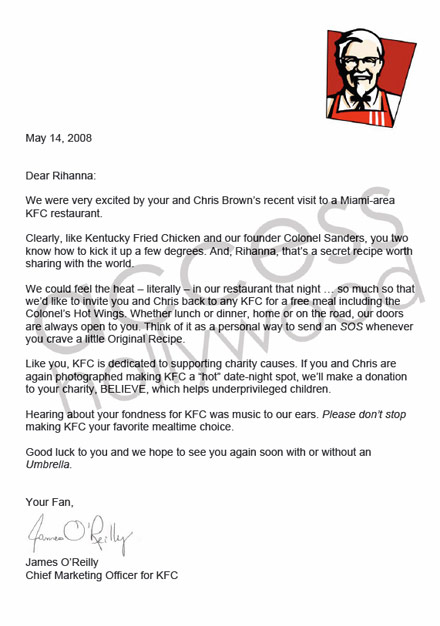 I can't believe the big thanks is a free meal. 😊
I can see it now, Rihanna and Chris Brown - a couple of hundred thousand dollar kids - slapping a copy of the letter on the counter when the cashier says.. "$12.99." KFC did say they'd donate a lil something to a charity if they're spotted on another "hot-date night," but I fully expect a TV commercial to follow this.
As long as they aren't dancing around in Hammer pants for Popcorn Chicken.
That first dancing MC Hammer/KFC commercial doesn't seem to be on the web, but he got clowned hard for that foolishness. Beginning of his downfall. Hah.