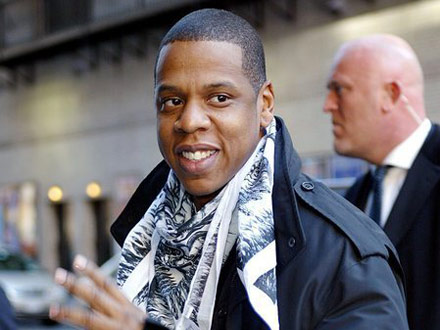 Earlier this week pictures of Jay-Z ducking into The Ed Sullivan Theater, home of The Late Show with David Letterman, were floating around. I always thought those talk shows were taped earlier in the day and put on the air the same night. Guess that isn't always the case; Jay-Z's appearance aired last night.
As the show ticked down to the last 15 minutes, and an Etch-A-Sketch bit was said to be coming up next, it looked like Hov was gonna get the musical guest treatment. You know, just rap and he gets the Dave thanks for coming out handshake afterwards. Which would have been the dismiss of the year. Turned out the Etch-A-Sketch bit wasn't next, Jay-Z came right after the commercial break.
Jay and Dave joked a bit, then he took the stage to perform "Rocboys." David Letterman's band leader, Paul Shaffer doesn't allow any music performer to lip sync nor sing-a-long to a track, it's live instrumentation, trumpets in the air, and Hov putting up 23.. 25.. Yeah, this is easy for him.
Thank mangoface for the vid.