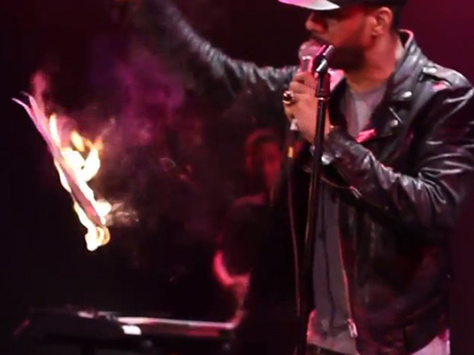 In 2010, Ryan Leslie lost a laptop which had unreleased music on it. As an artist, producer and songwriter it meant a lot of money and creations, swept away in the wind; so Ryan Leslie posted a video on YouTube offering $20,000 for the return of his laptop.
Nobody came forward, so he pumped the offer to $1 million. Surprise, someone said, "I'll take that"and he got his laptop back. Ryan Leslie didn't pay the reward though, he said he couldn't recover the music from the hard drive.
The man, Armin Augstein took Ryan Leslie to court and on Thursday, Nov. 30 a jury returned the judgement: Ryan Leslie has to pay the $1 million that he said he would.
On Friday, at a Long Island University homecoming show, Ryan Leslie made his feelings public about the verdict. He almost shed a tear when he mentioned the front page of the NY Post.
Which led to him lighting it on fire.
Why offer a million dollars?
Two things here.
In court, Ryan Leslie's lawyers parsed words, saying he literally meant "getting his music back," not just the laptop. So considering he couldn't recover it, Ryan Leslie felt the initial $1 million should be up for negotiation. How could anyone promise he'd get his music back? All they could, and what Armin Augstein did, is give him the laptop that he lost.
And why did Ryan Leslie ever increase the offer to a million? If he really intended on paying someone the reward, bump it to $100,000; not an amount that would break his pockets.
A YouTube video, seriously?
That said, I don't know how a judge considers a YouTube video to be a contractually bound promise to the public. I mean, really, it's YouTube; cats skateboard there. #jokes.
The reward is still out there
Yes, it's true. He's still making promises.
In the video, Ryan Leslie says..
"That million dollar reward is still out there for anybody that can return all of my compositions to me. That's why I never took the video off of YouTube. I never got anything back."
Ryan Leslie will not be cutting any more checks. He knows, recoverable or not, the music would have been on the laptop he has.
That's how he got himself into trouble, it sounds good to say it.