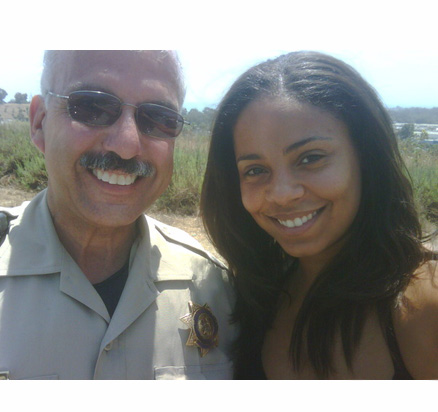 Last week during President Obama's press conference on health care, on the Tweet side, I pretty much predicted the firestorm that's been blazing ever since he 'stupidly' sparked it with his comment regarding Henry Louis Gate's arrest. Fifty-five minutes of back and forth on how to reshape health care and two seconds later the media decided to ignore it all to embrace a virtually, throwaway remark. Terrorists, sex scandals, and angry black men are the easiest things to make into headline news. Hah. Yes, I'm done ranting..
Anyway, here's something to show that not everyone has a contentious relationship with the popo. The picture up top was posted by Sanaa Lathan via her Twitter page. Seems like, this weekend, on her way to/from Comic Con in San Diego, California, her driver was doing his best Lewis Hamilton impression. Looked in the rear view mirror, uh, oh.
What happened when the cops approached the car?
"I got us off. hehehe"
I'm more impressed that he knew who she was. Let's be honest, WE know Sanaa Lathan, but she's not exactly an A-Lister in the Hollywood club. Maybe Mr. Officer saw Something New and thought he had a shot.