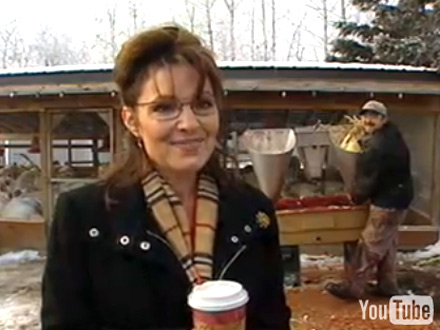 Yesterday, Sarah Palin was interviewed at a turkey farm in Wasilla, Alaska. She was there to spare the life of a single turkey: the traditional Thanksgiving turkey pardon. Holding a hot cup of Starbucks' finest caffeinated beverage, Sarah Palin said she enjoyed talking to and meeting people on the campaign trail and expressed her ideas for where the country should be headed and what she plans to do as Governor of Alaska. Yup, Sarah's still in the house.
She seems completely unaware that she's been played for a fool again. The guy in the back is standing in front of a bloody table and dumping a turkey into some kind of horrifying Saw house grinder. He's looking right at the camera, laughing on the inside, 'Can you see me?..'
How oblivious is she?.. "It's nice to get out and promote a local business and to just participate in something that isn't so heavy handed politics that uh.. invites criticism!"

Sarah Palin's supporters cry that John McCain kept her away from the media and didn't let her 'be the maverick' when he did cut her loose. As we've seen, every time Sarah Palin speaks to the press it becomes a
3 A.M phone call from the folks at SNL. *Dialing Tina Fey*.. "You're not gonna believe this.."
Here's where Sarah selects the lucky turkey..
Not bad, but towards the end the producers of this piece still get their giggles by splicing in video of Jigsaw hard at work.