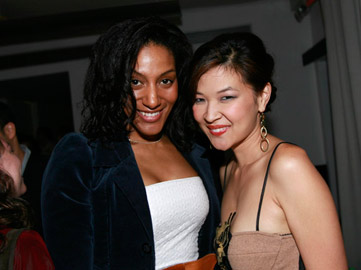 The Ghetto Film School had their annual benefit dinner last night. Highly-acclaimed, Tony Award winning actress/one woman show Sarah Jones was in attendance.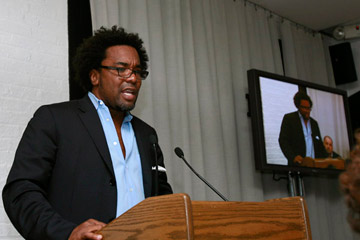 Along with Lee Daniels, least known for getting Halle Berry in Monster's Ball and up on the screen.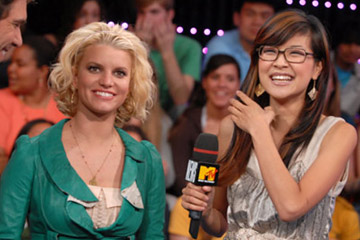 MTV's SuChin Pak was there, as well as a flutter of other industry faces and listed (read: un-photographed) guests (Russell Simmons, Spike Lee, Ben Stiller, etc.)
The school was founded in 2000 to give inner-city kids hands-on experience with careers and opportunities behind the camera. Every year 20 kids are selected to participate in the free 15 month program designed to give them all they'll need to get started in the quest to become the next Martin Scorcese.
The Curriculum:

GHETTOFILM101 - 9 weeks of learning the fundamentals.
INDUSTRY101 - workshops, seminars, and internship placement in a partner company.
THE THESIS FILM - an advanced group project where students take on specialized roles as director, cinematographer, or editor.
Using professional quality cameras, one graduate, 19-year-old, Luis Servera directed a 15 minute short "Alma de mi Padre" (Soul of my Father) in Mexico City. The script, written by another 19-year-old, Jawaaan Carmona, breaks down like this.. "The main character has a magic medallion that protects him from being hurt by love. When a woman finally breaks through his defenses he is left miserable for 30 years."
21-year-old Lilliana Candillera the film's cinematographer was worried about keeping the plot a secret, "We don't want to say too much."
Not to slight them at all, but plotwise, that sounds very similar to Pirate's of the Caribbean.
I will say this, for something founded in such good soil and intentions, it's quite possibly the worst named school ever. The Ghetto Film School?
Where did you learn how to make movies?..
Got my degree from..
Wrote and produced an award winning film at..
Everything inner-city related doesn't have to have ghetto or the hood attached to it.
It's not the kids fault, the founder of the school Joe Hall, a resident of the South Bronx, social worker and USC film graduate is responsible for that.
Name aside, the school has received nothing but good press.
And this really is a good looking bunch of kids.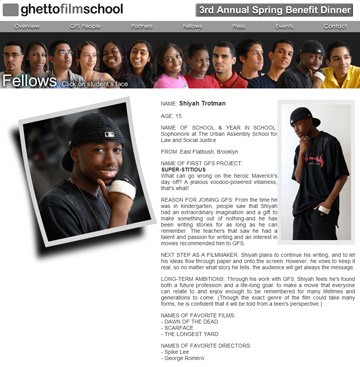 Hopefully they'll come out of it making great movies, or just big ones.
Did you know the director of Fantastic 4 was black?
Neither did I.