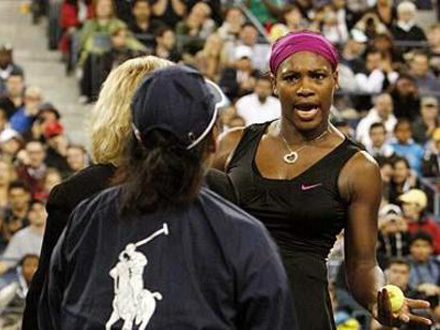 This morning, Serena Williams and Kanye West are both at the top of the news for losing their cool in big moments. Let's talk Serena Williams here. On Saturday, she participated in the U.S. Open semi-final against Kim Clijsters. When serving during a potential match set, Serena Williams was called for a double fault. After both calls, Serena yelled at the female line judge and shook her racket in her direction, saying..
"I swear to God, I'm fuckin' takin' this ball and shovin' it down your fuckin' throat… I swear to God."
Because of that and an earlier warning for breaking her racket in frustration, Serena Williams was given a point penalty which cost her the match.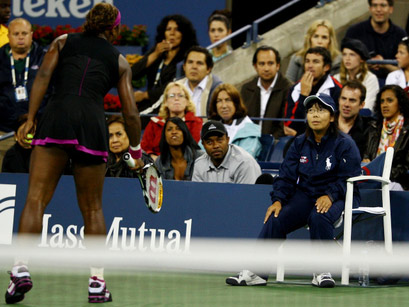 The line judge may have made things worse by claiming Serena Williams threatened to kill her. Serena immediately denied that..
Serena Williams was fined $10,000 and the U.S. Open director said a further review could cost her all of her tournament money, $350,000.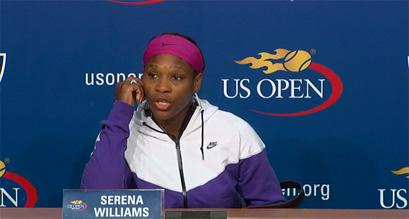 During the post-game press conference Serena Williams said she doesn't know why the line judge felt threatened and clarified that she has never been in a fight in her life. Which is where this gets silly. Did the judge really believe an ass kicking was coming her way? Should Serena lose all of her tournament money, $350,000 for what's being talked about as a crazed outburst. I heard the news before seeing the video and really expected more. It's being blown out of proportion.
Talk of John McEnroe's career isn't complete without bringing up his outbursts and berating judges. It was nearly expected of him. As opposed to this guy's blog post "Dear Black Folks, We Cant Have it Both Ways" I believe bringing John McEnroe - and other tennis player's tirades - into the conversation has nothing to do with having it both ways or a supposed moral high ground. This is about black folks being as human as the next guy. Serena Williams should be fined $10,000, she will also have to deal with the stain on her image, but looking at this as anything more than an athlete passionately pleading their case in the heat of competition is way off base.