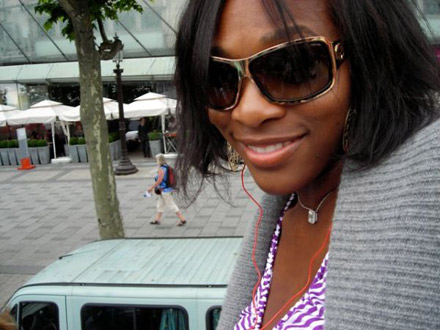 I've got to give this story nod to Bossip. Who knew Serena Williams graduated past Myspace blogs to posting on her own site? We sometimes forget that celebrities and athletes are real people. Serena Williams is a great example. Here is a certified star in the tennis world, worldwide championship titles in her name, yet at heart she's still a 20-something chick, doing 20-something things.
On Myspace she posts photos of herself from magazine shoots and candids from her digital camera/cellphone. It isn't some quiet as kept, company intern/publicist doing the 'fan' thing, you can tell she's the person who logged in.. user name.. password.. and posted them.
That continues on serenawilliams.com.
Her most recent post is about Who Moved My Cheese, but she's a prolific writer.. haha.
In true diary format she writes about when the guy stops calling.
Yes ladies, even Serena Williams can't find a man.
Weeks turn into months and you no longer talk to anyone else just him. And then it happens. No not the "L" word. But what you have been most afraid of. What deep in your heart you have been afraid to confront. What you always suspected would happen one day sooner or later. HE STOPS CALLING. You panic. But you try to stay calm. He did this before when you first started talking, but u tried to forget it. He disappears for 2 days no phone call. No answer to yours no nothing. This is the very reason you begin to think why your heart was in that steel enclosure. The reason you don't put your emotions your feelings, your heart into any man. Because one day it always turns into this day, but you are already too far out you are at the point of no return, you can't come back. You are too far gone. You can't believe, although a piece of you does believe it.
I'm pretty sure if dudes knew a way to get to her she'd have zero problems finding some extra 'cheese.'