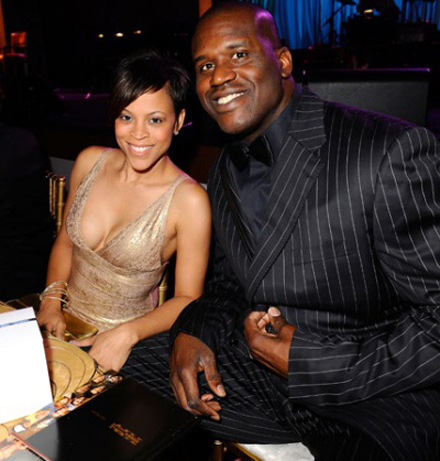 By now, it's likely you've heard the ins and outs of this story. Twitter version: Shaq's wife Shaunie is about to slice half. Let me fill some gaps. After separating in 2007, early this year, Shaq and Shaunie reconciled. Shaq looked happy. Shaunie seemed content. Late last week that glow of love was blown away when a leaked email exchange between Shaq and Gilbert Arenas's fiance and mother of his three kids, Laura Govan, hit the internet.
Some people have questioned the authenticity of the emails. Here is the original as posted by YBF. Just compare Shaq's Tweet game to the emails. Same problem: his big thumbs mistakenly hitting keys all over his Blackberry.
Shaunie apparently had no doubts. Monday afternoon she filed for divorce, requesting custody of their four children, child support, and of course, a little for herself. I stripped the emails and spellchecked Shaq for your reading convenience.
Mar. 5, 2009

Laura: Just wanted to let you to know I'm here.

Shaq: Where r u?

Laura: In the hotel… About to go to sleep! u?

Shaq: What hotel and what room?

Laura: The Four Seasons, where r u?

Shaq: I just left goin to a party can I come put it in when I get back? What room u n?

Laura: Is Shaunie going with u? N how late?

Shaq: Hell no. I'm back by 1:30. Can I do it tonite and tomorrow after lunch? What floor u on?

Laura: LOL ur crazy! As long as u taste me n make me cum LOL

Shaq: What room?

Laura: So I'll see you at 1:30 :~) erase all these messages plz.
Obviously, someone didn't read that last part. Laura is trying to keep this rendezvous on the low from Gilbert Arenas.
Wondering what Laura Govan looks like?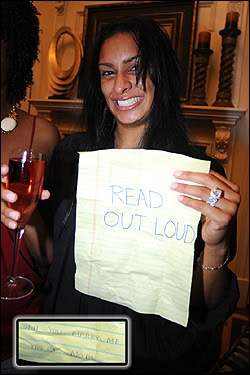 That picture was snapped the day Gilbert Arenas proposed to her. What she was to "Read Out Loud" was, "Will you marry me?"
How about some Laura Govan bio dish? Columbus Urban Life's got you on that.
"Laura Govan isn't your typical NBA groupie turned wifey. Laura is an educated woman of African-American, Mexican and Hawaiian decent who comes from a prominent family of nine and grew up in a very affluent Bay area suburb of Orinda. Before getting engaged to Arenas, Laura worked doing PR for the Sacremento Kings, the Los Angeles Lakers and was also Shaq's personal assistant- which would help to explain how she was able to have a close relationship with Shaq and even befriend Shaunie in the process."
Laura Govan is currently pregnant with Gilbert Arenas's third child.
When she got pregnant the first time, Gilbert Arenas made sure he was the baby's daddy with some cautionary paternity test action. Laura Govan's expected delivery date is December 24, 2009. The emails are dated March 5, 2009.
That puts her at exactly nine months/latex close to the due date.
Gilbert might want to dial Doctor Paternity one more time + dead that skip down the aisle.