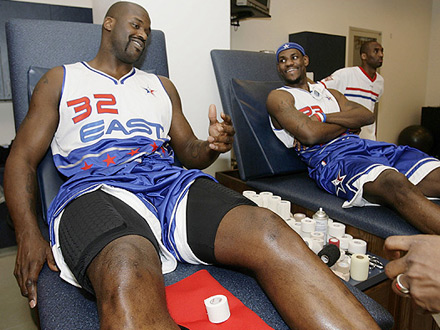 As great as the 2009 NBA season was, next season it's going to be even better. The sportswire is smoldering with news that The Cleveland Cavaliers and Phoenix Suns have agreed to play their part in my prediction by agreeing to trade Shaquille O'Neal to the Cavaliers for Ben Wallace and Sasha Pavlovic. Short story: Shaq will be highly motivated to provide yet another young guard with a piece of NBA jewelry. Last season, Shaq proved that when healthy, he can still pull down a few 20-10's. In fact, he had one 45 point explosion.
That kind of work won't be necessary, though. Much like his run with Dwayne Wade and the Miami Heat, Shaq will run interference down low, leaving Lebron James to dominate the game. Best part: he won't have to ask for the ball. Lebron will be more than willing to put it in his hands when he's triple teamed.
Lebron James will be more focused too. Don't think he didn't notice the way his puppet roommate put it on during the playoffs. Think, game face. Imagine this final mixer: Cavs vs. Lakers with a Kobe/Shaq who's gonna get that 5th ring side story thrown in. Classic sports story in the making.
*Yeah, that's Kobe listening in up there*