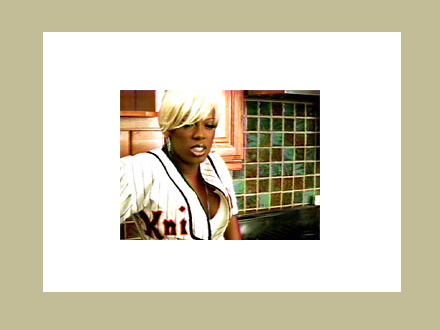 "The men are bugging me out, they're grabbing at me. I'm excited, they're giving me love (claps and whoos.)"
That was Sharissa on the radio yesterday, explaining her new found fame to Wendy Williams. You've seen her in that "Any Other Night" video where she calls her man, he doesn't show up or call, so she calls the next man. Yes indeed, it's the new woman of the millenium, ready to shove a brother out the door for the slightest infraction. What's going on?.. What's going on?
It's no wonder that dudes are hawking her right now, they've seen the video, those thigh-high boots, nothing on really but a jersey and the bosom spilling out the top. She's country thick and she's also a new jack, so the industry hounds are making bets as to who's gonna tap that first. Sorry if your offended, but it's the truth. Even her damn dentist is trying to weasel his way in.
Look at her teeth. So fresh, clean and white.. she had some kind of special treatment done on them, can't say exactly what, but here's Wendy interrupting the conversation.. "Your thirty thousand dollar teeth are looking fabulous. They are holding up under the celebrity." "Thank You," Sharissa said. Then she laughed and in a you caught me voice said, "I keep brushing them" and laughs again. That's something she does a lot, bursting out in laughter.. she's definitely new to all of this attention.. But back to the teeth. I don't know what the hell she got done to them, but she said that she needs to give them special attention to keep them sparkling white like that. Sounds like more than just brushing. Does she have false joints? WTF!
The dentist.. she went to his office for a regular visit and on the way out he had a little blue box waiting for her. Inside was a pair of diamond earrings from Tiffany's. Now when was the last time you received a present from your dentist? He's putting in his bid.
Sharissa Dawes hails from Edenwall Projects in the Bronx, NY. She got her start singing in the school cafeteria and after taking her talents to the streets of NY, found herself with the connections necessary to get a contract with Motown Records. Before her album No Half Steppin was released, you might have heard her blow on Beanie Sigel's "Mac Bitch".. that was her singing the chorus.
"Any Other Night" has her on the hot seat though. The song is big in North and South Carolina and she's all over the place promoting the album. Even though she lives in NY, on a recent trip back from a promo tour, she was here for six days and never saw the inside of her apartment. She stayed in hotels. Wendy said "ordering room service and all that.." Sharissa cut her off, "Pleez, I'm still ghetto style girl.. I go and get my food."
Be on the lookout for her next video, she didn't name it but it sounds like the remix to "No Half Steppin" w/Scarface.. Wendy Williams is gonna make an appearance as, ummm.. herself.