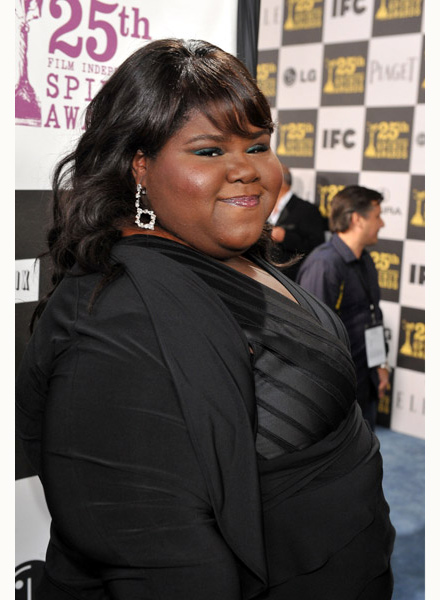 Tomorrow night we'll all be watching the Oscars and chatting it up twenty ten style via Twitter. Gabourey Sidibe is racking up awards for her role in Precious. Among them, an NAACP Image award, an Independent Spirit award and she's up for an Oscar in the best actress category. A win at the Oscars will even put smiles on the loser's faces. If she does win - which I hope she does - Gabourey is going to have to take on vastly different roles in the future, to prove she can portray more than a school of hard luck teenager.
I've written about it and Gabourey is still reminding people, Precious was a character in a movie. "I'm so different. All it takes is a conversation, a sentence from me, to know that I'm not that girl," Sidibe says. I suspect people hear what she's saying but still think, "Hey, Precious is on the red carpet!"
Lee Daniels, the director of Precious, says Gabourey's personality is the complete opposite of Precious and he has her next starring role in the sketching stage to prove it - we'll see how that works out.
In the meantime, Pop Sugar TV is all aboard the Gabourey Sidibe train; win or lose, they predict she'll emerge from the Oscars as an It Girl - along with Zoe Saldana, the voice of Avatar's Neytiri, and young apprentice, Anna Kendrick, from the George Clooney flick Up in the Air. It Girl, means a step forward to see first, know right away status, translating into Diddy's infamous problemo: mo money, mo stuff to handle. A problem not too many mind having.
Zoe Saldana isn't nominated for anything, but I'm glad to see her name in super bright lights; been a fan for years. Anyone have her number?