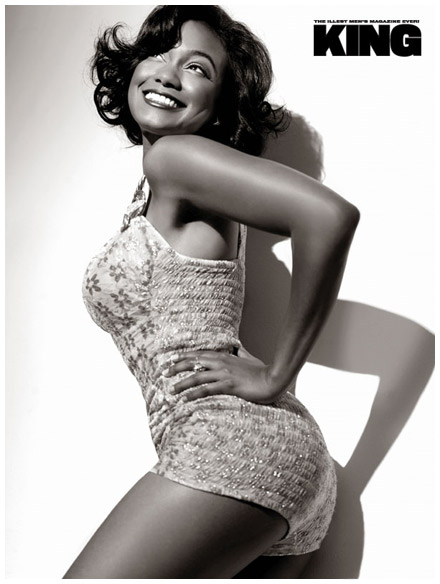 Tatyana Ali is in this month's King Magazine - "Ali, Boom-Ba-Yay!". Among talk of being a Harvard graduate, giving a nod to her second album (?) The Light, and the importance of being politically active and making the Barack change this November; Tatyana mentioned work on a web based show called Buppies.
Tatyana said it "touches on black Hollywood and has a little bit of a Sex and the City and Entourage vibe. It's about the characters, both women and men, figuring out who they are."
Created by Julian Breece and co-executive produced by Tatyana Ali, the show "centers on the misadventures of a dysfunctional crew of upwardly mobile quarter-lifers desperately mining the meaning of life in Hollywood's social wasteland."
Tatyana Ali with the Cast of Buppies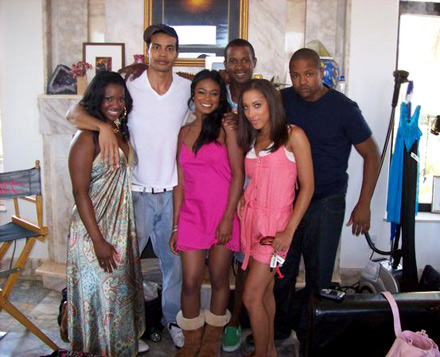 Buppies was filmed on locations in Malibu and Los Angeles, wrapped production in June, and is scheduled to be online this Fall. Why the web? It's an extension of Tatyana's view of Hollywood.
"It's kind of like the Wild West out there, and not just for black Hollywood. In a traditional sense, things look bad - there are people out of work, shows aren't going up and a lot of films aren't being made, because of the fear of actors going on strike. But I think it's a real fertile time to stake your claim. With things up in the air, it creates new space for people who are trying to break through, business-wise."
Making a TV show exclusively for an online audience is the logical step past shipping DVDs. I hope it lives up to those high standards though.. Sex and the City, and Entourage.. Yeah, that's high standards.