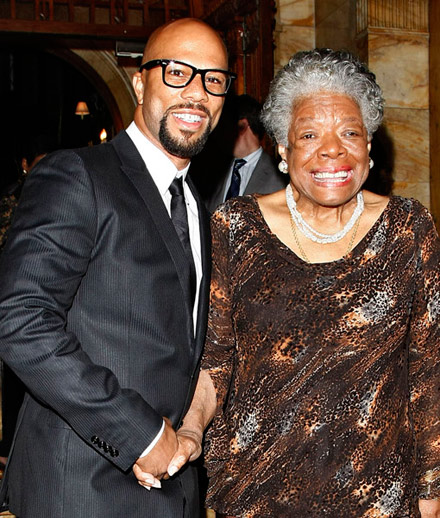 Common and Maya Angelou stopped for a picture at yesterday's Benefit for Readers and Writers at The Friars Club in NYC. Whenever I see Maya Angelou, I can't forget her firm support for Hillary Clinton during the primarys. She was swayed by Hillary's experience and dedication to the 'struggle.' Both arguable points, but who, with a scrap of home training, would get in the face of someone that could easily be their own grandmama? Not to mention Maya Angelou's earned spot in the cultural lexicon.
Clearly her lack of support wasn't about race, but there are some people who argue that the 95% of the black vote Barack Obama will get on Nov 4th, shows how racist black people are: voting for the black man, because he's tan. That's laughable, because for the last 25 years the black vote has basically been ignored by Democratic candidates, because black people vote 95% for the Democratic candidate, no matter who is at the top of the ticket? This year that person happens to be a black man.
Sure, there is a secondary pride and third level history making aspect to it, but Hillary Clinton or pre-scandal John Edwards would have had no trouble getting the black vote.
On the other side, there are white people that won't vote for Barack, just because of his race. It evens out.
What's all this talk about black anyway? Barack isn't black.. Not Djimon Hounsu black!
Chocolate News: The First Black President
"The Republicans have an ex-prisoner. Whose running mate is a heat packing, mama of five, with a teenage knocked up baby's mama. OH.. hellll no!"