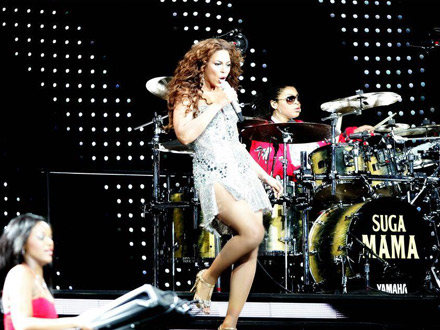 The countdown has begun, only 31 days until Beyonce kicks off her 2007 U.S. summer tour, otherwise known as The Beyonce Experience. The Experience began on April 10th when the tour kicked off in Tokyo (the picture is from a show in Sweden.)
She'll set foot in New Orleans on July 6th, performing at the Essence Music Festival, the first of a 41 city stateside tour that will stretch from July through September.
Robin Thicke is listed as her supporting act throughout the tour. Chris Brown was added to the New Orleans date. That other girl who happens to have an album coming out in July, first name rhymes with jelly, last name fits in this riddle.. "The weed heads in the crew were in the corner——- blunts." She curiously isn't mentioned at all.
Hopefully that solo career thing works out for her, she catches a spot date here or there.. in the Mongolian mountains. That would be nice.
Catch Sasha in all her glory at a city near you. You know you want The Experience.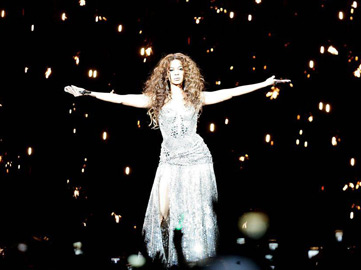 | | | | |
| --- | --- | --- | --- |
| Fri | 7/6 | New Orleans, LA | Superdome |
| Sat | 7/7 | Memphis, TN | FedEx Forum |
| Sun | 7/8 | St. Louis, MO | Savvis Center |
| Wed | 7/11 | Monterrey, Mexico | Monterrey Arena |
| Fri | 7/13 | Dallas, TX | American Airlines Center |
| Sat | 7/14 | Houston, TX | Toyota Center |
| Sun | 7/15 | San Antonio, TX | AT&T Center |
| Wed | 7/18 | Nashville, TN | Gaylord Ent Center |
| Fri | 7/20 | Atlanta, GA | Philips Arena |
| Sat | 7/21 | Tampa, FL | St. Pete Times Forum |
| Sun | 7/22 | Ft. Lauderdale, FL | BankAtlantic Center |
| Tue | 7/24 | Orlando, FL | AMWAY Arena |
| Fri | 7/27 | Charlotte, NC | Bobcat Arena |
| Sat | 7/28 | Raleigh, NC | RBC Center |
| Sun | 7/29 | Hampton, VA | Hampton Coliseum |
| Tue | 7/31 | Albany, NY | Pepsi Arena |
| Wed | 8/1 | Uncasville, CT | Mohegan Sun |
| Thu | 8/2 | To Be Determined | |
| Fri | 8/3 | Meadowlands, NJ | Continental Airline Arena |
| Sat | 8/4 | NYC | Madison Square Garden |
| Wed | 8/8 | Baltimore, MD | 1st Mariner Arena |
| Thu | 8/9 | Washington DC | Verizon Center |
| Fri | 8/10 | Philadelphia, PA | Wachovia Center |
| Sat | 8/11 | Atlantic City, NJ | To Be Determined |
| Sun | 8/12 | Boston, MA | Fleet Center |
| Tue | 8/14 | Montreal, QC | Bell Centre |
| Wed | 8/15 | Toronto, ON | Air Canada |
| Fri | 8/17 | Detroit, MI | Palace |
| Sat | 8/18 | Chicago, IL | United Center |
| Sun | 8/19 | Cleveland, OH | Quicken Arena |
| Wed | 8/22 | Denver, CO | Pepsi Arena |
| Fri | 8/24 | Phoenix, AZ | US Airways Center |
| Sat | 8/25 | Las Vegas, NV | MGM |
| Sun | 8/26 | San Diego, CA | To Be Determined |
| Thu | 8/30 | Lake Tahoe, CA | Harrah's Outdoor Theatre |
| Fri | 8/31 | Oakland, CA | Oakland Arena |
| Sat | 9/1 | Anaheim, CA | Honda Center |
| Sun | 9/2 | Los Angeles, CA | Staples Center |
| Wed | 9/5 | To Be Determined | |
| Thu | 9/6 | Calgary, Canada | Pengrowth Saddledome |
| Fri | 9/7 | Vancouver, Canada | GM Place |