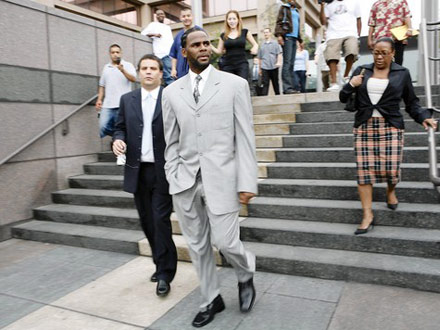 In a pre-trial hearing Tuesday afternoon the judge in the upcoming R. Kelly case, Vincent Gaughan, upheld an earlier ruling that will allow the sex tape to be shown during the trial, not just to the jurors, to the entire courtroom.
"That will give the verdict more credibility with the public," said Gaughan. Prosecutors asked begged the judge to reconsider saying it would revictimize the girl, but he stuck to his stance, saying there was no sense in keeping the tape away from the public if the girl in question denies she's on the tape.
As Johnny would have said..
If there is no sex. There is no victim to protect.
The girl identified as being on the tape, allegedly Sparkle's niece, has refused to cooperate because she says it's not her, and the prosecution doesn't plan to put her on the stand. They will call neighbors, friends and relatives of the girl to identify her and to say that she will celebrate her 23rd birthday next month. That birthday being critical in proving the underage portion of the case.
The judge told the prosecution he would reconsider his decision about the tape if the girl decides to take the stand.
Yup, he's not only a judge he's a poker player.
And R. Kelly.. he's not concerned.
You'd think that his lawyers would be asking the same, keep that tape under wraps, but all was quiet on his side of the table.
Instead they were flustered about the urinating part of the tape and asked that it be cut .. "such a display would be prejudicial to the defense".. the judge denied their request. Kelly's lawyers are also bothered that the prosecution wants to bring in a doctor to testify that the girl's behavior is consistent with someone who has been victimized.
R. Kelly's lawyers argued against this because - it's not her.
Say that twenty times a day until you believe it.
It works - read The Secret.
Jury selection is set to begin on September 17th.